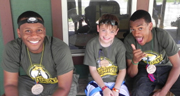 HoG needs volunteers for camp and special events. Can you help?
READ MORE
Golf Tournament Corporate Sponsors
Hemophilia of Georgia thanks the Corporate Sponsors of the 2013
Hit ′Em for Hemophilia Golf Tournament:
Pfizer

TEKsystems

Biogen Idec Hemophilia

Merrill Lynch

Octopharma

ZWJ Investment Council

Atlanta Braves - Mike Plant

Bill Bartholomay Foundation

Harbinger International

Virgil P. Warren Foundation
For information about Corporate Sponsorship opportunities for the Hit 'Em for Hemophilia Golf tournament contact Kirstin Downie at kmdownie@hog.org or 770 518-8272.