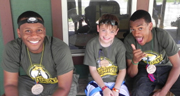 HoG needs volunteers for camp and special events. Can you help?
READ MORE
How to Use the Online Order System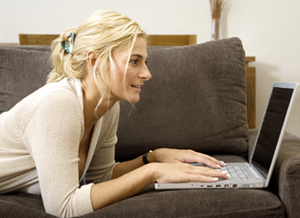 Now you can place your pharmacy order at any time of the day or night right from your computer. The HoG pharmacy staff will process the order by the next business day, verify your insurance coverage, and call you if there are any problems.
The first step is to create a profile in the My HoG section. If you don't have a password yet, just type in your email address and click the button that says "I do not have an account and would like to sign up." Then click the sign in button. You'll go to the sign up page where you will select a password and enter your information.
After a short verification process, you'll receive an email letting you know that you can access the online order system. Then, you'll just click on the red Order Online tab in the pharmacy section of the website and choose the medications and supplies you need. To order factor, just choose "Clotting Factor" and put in the number of doses you need. The pharmacist will review your prescription and select the appropriate product for you. If you need Amicar syrup or tablets, just enter a quantity of one and the pharmacist will process your order based on your prescription.

"The HoG online ordering process is very user-friendly and allows me to place an order on my own schedule. I have the convenience of doing so whether it be after office hours or as life some times works, at 4:00 a.m. in a sleep-interrupting moment of "it is the end of the month and I have two doses left!" Because the supplies are categorized in a such an effective way, you do not leave any items off of your order and if you do, the order is listed for you to check before submitting the request. I am given a confirmation email including delivery date. If I have a question for the pharmacy, the comment box allows for this and I am promptly called by the wonderful HoG pharmaceutical staff. I highly recommend this ordering process and greatly appreciate Hemophilia of Georgia listening to their clients and acting on their requests."
--Stefani, mother of HoG client

It's easy to order supplies, too. You can look at the entire list of supplies, or use the convenient categories to see commonly used supplies, supplies for peripheral (arm and hand) infusion, supplies for PICC, and supplies for Port.
After you've placed your order, you'll get an email telling you that your order was successfully submitted. Then, once your order is on the way to you, you'll get another email that includes the Fed Ex or UPS tracking number so you will know when to expect your order. Orders placed after 3:00 p.m. will be processed the next business day. And, after you've placed your first online order, the system will retain your order and you'll be able to see what you got last time and simply check the re-order button if you want to re-order the same thing.
The online order system is ideal for routine orders. If you're having an emergency, please call the HoG pharmacy so we can expedite your order.