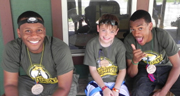 HoG needs volunteers for camp and special events. Can you help?
READ MORE
Hemophilia of Georgia Announces Trot to Clot Walk and Run to Raise Money for Camp Wannaklot
February 10, 2012
Hemophilia of Georgia's 3rd annual Trot to Clot Walk and Run will be Saturday, May 19th at Stone Mountain Park. This fun, family-centered event will raise money to fund Camp Wannaklot, the only camp in Georgia that gives kids and teens who have inherited bleeding disorders the chance to have fun, learn new skills, and be with other kids just like them. Most importantly, Camp Wannaklot campers learn how to manage their own treatment.
Children who are born with severe hemophilia usually get three infusions of clotting factor medication every week. That's more than 2,500 shots by the time they grow up. These kids aren't allowed to play contact sports like football because the risk of injury is too great. But at Camp Wannaklot they can ride the giant swing, climb the rock wall, and go down the zip line.
At Camp Wannaklot, kids who have bleeding disorders learn what they can do. And often, the kids learn how to give themselves those injections of clotting factor so they aren't dependent on their parents or nurses to get the medication they need to stay healthy.
According to Vic McCarty, Hemophilia of Georgia Director of Development, "people who participate in the Trot to Clot Walk and Run will help to ensure that Camp Wannaklot will continue to offer kids who have bleeding disorders the opportunity to share new experiences, make new friends, and develop the skills they need to become independent. We hope to raise $40,000 for Camp Wannaklot through the Trot to Clot Walk and Run."
Everyone who registers to walk or run by April 27th will receive a Trot to Clot t-shirt and free admission to Stone Mountain Park, a $10 value. (One parking pass per car). Additional information and registration details are available online at www.hog.org/trot.
Hemophilia of Georgia thanks corporate sponsors Lazer Spot and the Coldwell Cares Foundation. Organizations interested in corporate sponsorship are asked to contact Vic McCarty at 770 518-8272 or vamccarty@hog.org.