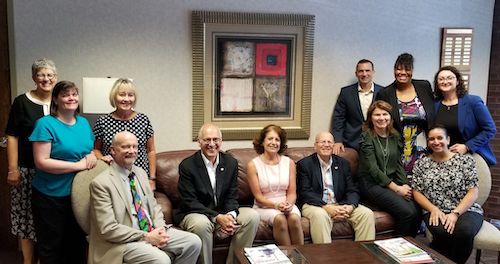 Hemophilia of Georgia, World Federation of Hemophilia Discuss Expanded Collaboration
On May 29, Hemophilia of Georgia hosted guests from the World Federation of Hemophilia (WFH) and WFH USA. Guests included Alain Baumann, WFH chief executive officer and executive director of WFH USA; Eric Stolte, WFH USA president; Assad Haffar, WFH director of medical and humanitarian aid; and Jennifer Laliberté, WFH resource development director and WFH USA national director.
The meeting allowed each organization to gain better insight into the other's operations. Discussions covered current HoG support of WFH programs, including youth leadership development workshops, data collection training workshops and global national member organization training. HoG CEO Edith Rosato also opened up discussions regarding further HoG support of international efforts.
"I see an additional area of collaboration with WFH by providing our existing expertise in comprehensive care collaboration to assist in the training of clinicians in countries where needed," Rosato explained. "There is a desperate need to train clinicians worldwide, especially in developing countries, in diagnosing, treating and managing patients with hemophilia and other inherited bleeding disorders. Additionally, ensuring a continuous supply of factor products to treat patients as needed and prophylactically is difficult."
WFH also requested assistance with educating clinicians about maintaining product integrity while in storage to ensure the potency of the product when infused.
WFH and HoG agreed to continue discussions on these topics in the coming year. Additionally, Rosato announced that HoG will provide continued financial support for WFH through the National Hemophilia Foundation Chapter Challenge.