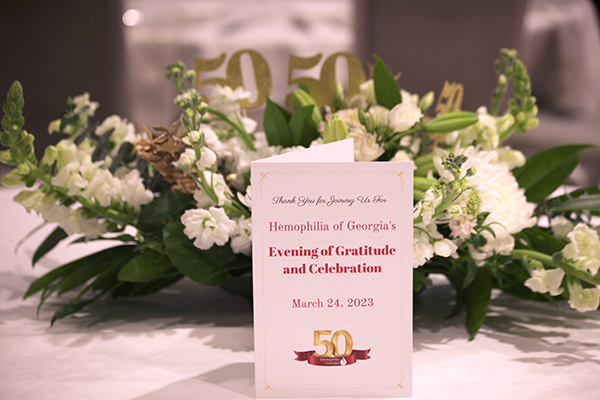 HoG's Evening of Gratitude & Celebration was a Success!
On March 24, Hemophilia of Georgia (HoG) hosted its greatly anticipated Evening of Gratitude & Celebration at the Whitley Hotel. It was wonderful to see our amazing and steadfast supporters, dedicated board members, and staff come out in full force to be a part of what makes Hemophilia of Georgia such an impactful and meaningful organization: working to transform lives in the bleeding disorder community by providing excellence in comprehensive health care, education, advocacy, and the support of research.

At the event, we celebrated Hemophilia of Georgia's 50 years of service to the bleeding disorder community and honored over 200 donors, stakeholders, and distinguished guests for all their hard work and dedication in support of our mission. (View 50th Anniversary Video.)

The evening began with a lovely cocktail networking reception, followed by a fabulous dinner, and the honoring of some extraordinary people whose support and expertise have contributed to our success and greatly impacted the lives of people in the bleeding disorder community.

We paid tribute to Trish Dominic, former CEO of HoG, who dedicated much of her life's work to HoG and passed away in November. Hemophilia of Georgia's current CEO, Edith Rosato; and Board Members, Hikie Allen and Janet Glass; presented the Dominic family with a special gift in Trish's honor.

After, there was a moving presentation by special guest speaker, Zander Masser, author of the narrative photography book, Unburying My Father. He is also a licensed occupational therapist. Zander's father contracted HIV from using contaminated blood products to treat his bleeding disorder and died in 2000. Zander shared the impact of his experiences regarding how 20 years later, he found ten thousand images (slides) from his father's career as a professional photographer.

Then, Hemophilia of Georgia honored and celebrated our dedicated corporate partners, whose contributions and commitment are critical to our organization's success. Their impact on the work we do and the bleeding disorder community is tremendous.
Corporate Partner of the year was awarded to Merrill Lynch Wealth Management–Singh & Associates.
Industry Partner of the Year was awarded to Genentech.

Hemophilia of Georgia is grateful to our many wonderful supporters who came out to celebrate together with us on this important night. Our community is stronger, healthier, and happier when we are together!