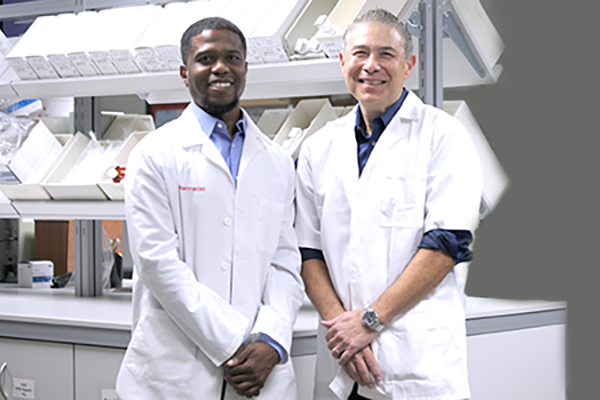 Tips & Comprehensive Care Through Medication Therapy Management
As part of Hemophilia of Georgia's exceptional, comprehensive care for people with bleeding disorders, patients of HoG and Beacon pharmacies expect and receive high quality care from our Medication Therapy Management (MTM) Pharmacist and clinical care team. As a member of the multi-disciplinary healthcare team, the Clinical MTM pharmacist collaborates with nurses, social workers, prescribers, and other healthcare providers to help patients manage their medications and provide them with the highest quality of care possible to improve their health outcomes.

HoG's MTM Pharmacists have put together their top 5 tips to improve your health outcomes:
Keep bleed/treatment logs (Phone apps such as HemMobile, ATHN Robust Health, and Microhealth, allow users to record infusions, log bleeds, track physical activity) and report significant bleeds to a healthcare provider.
Place orders in a timely manner in case of delays due to insurance issues and supply issues etc.
Stay on schedule with prophylaxis dosing to avoid breakthrough bleeds and other complications, which can result in hospitalization.
If using prophylaxis treatment, be sure to keep a supply of on-demand factor on-hand.
Keep activity at an appropriate level corresponding to severity of bleeding disorder such as avoiding activities that may result in injury and wearing protective gear during sports or other physical activities.
Did you know our Clinical MTM pharmacist provides one-on-one telephone consultations with pharmacy patients? All new patients receive an initial pharmacy assessment prior to starting therapy. During this consultation, the pharmacist reviews all medications the patient is taking in addition to bleeding disorder therapies. This is called a drug reconciliation and it is one of the ways we are able to provide specialized and tailored services to our patients at no extra cost. Prescribed factor and non-factor bleeding disorder medications are also reviewed to include dosage, directions for use, and storage. Any other medical conditions should be discussed as well, along with listing any drug allergies. When patients call in to refill a prescription, the pharmacy staff will ask for updates on weight changes, new medications started, new allergies, and any new medical conditions. If there are new products prescribed or any changes in current therapy, an assessment is done again. The MTM Pharmacist also conducts reassessments for patients using our pharmacies.

The Clinical Care Team provides a multidisciplinary approach to better serve our patients by streamlining the process for new patient intake, treatment plans, and hospital discharge planning. The team consists of a Clinical MTM Pharmacist, Clinical Nurse Coordinator, Accounts Receivable Specialist, Director of Social Work, Director of Nursing, MTM Pharmacy Technician, and administrative support staff. Each team member provides their expertise to ensure patients' needs are met in an effective and efficient manner. The team is also a direct source of contact for the medical teams we support at our Hemophilia Treatment Centers (HTCs) across the state. These are just some examples of why at Hemophilia of Georgia we always say, "It takes more than medicine!"