Talking Together about Sexuality During National Let's Talk Month
Horizons in Hemophilia, October 2011
By Deniece Chevannes, Health Educator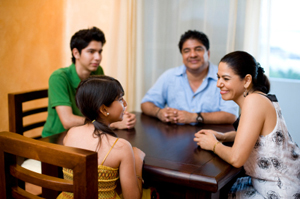 Every October many organizations throughout the United States celebrate Let's Talk Month to motivate and encourage conversations about sexuality between parents and their children. Young people have lots of questions about sex, love and relationships. Studies have shown that young people's decisions about sex are most influenced by their parents.1
The goal of Let's Talk Month is to encourage parents and caregivers to talk with their children to help guide them in making healthy, responsible decisions about sex. Some parents may feel awkward or uncomfortable talking with their children about sex. However, having honest and open conversations allows parents to share their values and beliefs about sexuality with their children.
Here are some tips to get parents started:2, 3
Talk with your children early and often about sex, and be specific: start the conversation, and make sure that it is honest, open, and respectful.

Listen: find out where your children are coming from and what they know or have heard about a particular topic before answering a question. It can be helpful to have some context for your child's curiosity.

Don't Jump to Conclusions: a question about sex doesn't mean your son or daughter is having--or is thinking about having--sex. This is your opportunity to share your values and beliefs.

Be sure to have a two-way conversation, not a one-way lecture: ask them what they think and what they know so you can correct misconceptions.

Use Teachable Moments: take advantage of movies, song lyrics and TV shows that can help start a conversation. Use these moments to tell your children honestly what you think and why you believe what you do.

Be Available: let your children know that you're available and make it a habit to talk about what you think and feel and to ask how they think and feel.

Talk to sons and daughters equally: young people, regardless of gender, should receive the same messages about making healthy, responsible decisions about sex.
Positive communication between parents and children helps young people to establish individual values and make healthy decisions. Age appropriate conversations about sex, love and relationships should begin early in a child's life and continue through the teenage years. All young people need lots of communication and guidance about this topic. This October take the time to listen, learn and talk with your child.
Be sure to check out HoG's Facebook page for more tips about Let's Talk Month!
---
1. Parental Influence and Teen Pregnancy. Retrieved September 27, 2011 from
http://www.thenationalcampaign.org/resources/pdf/SS/SS8_ParentInfluence.pdf
2. Let's Talk Month Planning Guide Book. Retrieved September 27, 2011 from
http://www.advocatesforyouth.org/storage/advfy/documents/ltm.pdf
3. Ten tips for parents to help their children avoid teen pregnancy. Retrieved September 27, 2011 from
http://www.thenationalcampaign.org/resources/pdf/pubs/10Tips_final.pdf