2012 Trot to Clot Walk and Run Raises $43,000 for Camp Wannaklot
Horizons in Hemophilia, June 2012
By Vic McCarty, Director of Development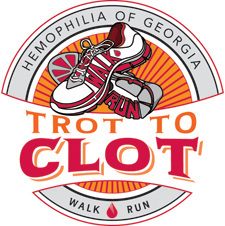 Hemophilia of Georgia is very pleased to announce that nearly 200 walkers and runners participated in the 3rd annual Trot to Clot Walk and Run on Saturday, May 19, 2012 at Stone Mountain Park which raised over $43,000 to support Camp Wannaklot. The Trot to Clot Walk and Run included a tot trot for children 3 and under and featured face painting, games and music, a vendor exhibit area, donuts donated by Krispy Kreme and coffee provided by Dunkin' Donuts.
Special thanks to corporate sponsors CSL Behring, Lazer Spot, Resurgeons Orthopedics, the Caldwell Cares Foundation, Green Oaks Dental, Cruser & Mitchell, Novo Nordisk, St. Jude's Internal Medicine, Pfizer, Turner Broadcasting, Baxter Healthcare, and Biogen Idec Hemophilia. HoG is very appreciative of the generous individual donors who made significant contributions to the Trot to Clot Walk and Run. Visit the Trot to Clot Walk and Run webpage to see photos and learn more about the event.
Please mark your calendar for the 2013 Trot to Clot Walk and Run at Stone Mountain on Saturday, April 20, 2013. Registration will begin in January 2013. We look forward to seeing you at Stone Mountain Park!