An Interview with Christine Kempton, MD
Horizons in Hemophilia, September 2013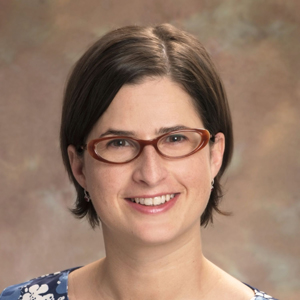 By Cathy Hulbert, LCSW, HoG Social Worker
Emory physician Christine L. Kempton, MD, MSc, known to many adult clients as their friendly primary hematologist, has taken a major new role in the Georgia bleeding disorder community. Earlier this year she was promoted to Director of the Hemophilia Treatment Center at Emory University and the Children's Healthcare of Atlanta Comprehensive Hemophilia Program. Dr. Kempton is also the Medical Director of the Southeast Region.
Dr. Kempton is replacing former director Shawn Jobe, MD, who left Emory to take a position at the Blood Center in Wisconsin. The mother of two boys, ages 8 and 5, she juggles her new role along with sporting events, Cub Scouts and play dates. She also is an accomplished athlete. Stepping into the role during a time of significant change, Dr. Kempton agreed to take some time from her busy schedule to talk about her plans and vision.
In March Emory Healthcare and Saint Joseph's Hospital announced a partnership between the two systems that forms the largest health care system in the state. Patients previously seen at Emory for their Hemophilia Treatment Center (HTC) visits are now seen at Saint Joseph's in the Erb Building, also known as the Erb Clinical Specialty Center. Saint Joseph's is near the Scottish Rite Campus of Children's Healthcare of Atlanta. Patients are being given directions to the center as they schedule their next appointments. The address is: The Emory Clinic, 5665 Peachtree Dunwoody Rd. N.E., Erb Specialty Clinic, 1st floor, Suite 150, Atlanta, GA 30342.
Question: What new plans do you have for adult hemophilia care in Atlanta?
Dr. Kempton: Our adult staff will travel to the St. Joseph's Hospital Erb Building to see patients on Thursday mornings. Although the majority of the HTC staff will remain the same, we will have a new physical therapist, Krystol Hines, PT, DPT. She is currently a physical therapist in the Emory Healthcare system based at Emory University Hospital (EUH) Midtown. We are also welcoming Tony DeBalsi, RN, FNP-C, as a nurse practitioner to support the adult program. He has been working for the past five years in the infectious disease clinic at Emory University Hospital Midtown. He is a great addition to our team.
When not in clinic, the adult team will continue to be located on the Clifton Road campus (at Emory) and will coordinate care as they do now. I am excited about the change in venue for the adult clinic and believe that this will provide space to increase capacity in both the pediatric and adult clinics. We are also using this change as an opportunity to evaluate and optimize our approach to how patients transition from adolescence to adulthood and transfer care from the pediatric to adult clinics. We hope in the next year to be using some new tools in the clinic to support the process of transition.
Question: What are your visions for Emory as a continued Center of Excellence?
Dr. Kempton: I envision Emory as a national leader in the care of patients with bleeding disorders. Being a leader means not only delivering current state-of-the-art care but also defining the future optimal care.
Question: What kind of continued partnership do you see with the CDC (Centers for Disease and Prevention)?
Dr. Kempton: Partnership with the CDC to address the public health needs of the bleeding disorders community is essential to advancing the care of patients with bleeding disorders. In treatment centers all across the United States we focus on the care at the individual level. The public health approach takes a broader view of the population as a whole and provides valuable information regarding what is working well and where opportunities for improvement exist.
Question: How can patients and families improve their partnership with their hemophilia treatment center?
Dr. Kempton: Great care does require a partnership between the patient/family and treatment team. Essential to any partnership is good communication. It is important for us to know what is and what is not working well for you. Please tell us. (Contact numbers for the Emory HTC remain the same.)
Question: Would you like to talk about other staff additions or any other exciting news?
Over the past year, we have had several new additions to our clinical and research team.
Mavish Kahn, LMSW, is our new Pediatric Social worker. She has been with our HTC for seven months. Prior to joining our team, she worked for the Department of Family and Children Services in Athens, GA. Mavish is a wonderful resource for our patients and team.
Many of you may have already met Christine Kennedy, RN, BSN and Betsy Koval, RN, BSN, CCRC, who provide comprehensive nursing services to our pediatric patients.
In February, Denise Hicks, MS, RN joined our team as the Adult Nurse Coordinator. She has 18 years of nursing experience. Prior to joining our team she was the Stroke Program Coordinator at DeKalb Medical Center. We are very lucky to have her.
A new addition to our research program is Kesley Tyson, MS. She is the Lead Coordinator for our clinical research team. She joined our team in January and was a research coordinator at Boston Children's prior to making her way back to the Atlanta area. She brings with her a quick smile and deep appreciation for clinical research.
We are very fortunate to have Mavish, Denise, and Kesley join our team. I hope you will welcome them along with Krystol and Tony next time you see one of them in clinic.
I'd also like to thank Hemophilia of Georgia for their ongoing support, not only of the Emory/CHOA program, but also of the entire State and Southeastern Region. Their support and stewardship is critical to our day-to-day work and achieving our long term goals.
Question: In addition to your new job, your work with Hemophilia of Georgia and your extensive research, you have other big roles, including Assistant Professor of Pediatrics, Aflac Cancer and Blood Disorders Services, Emory University, and Assistant Professor of Hematology, Department of Hematology and Medical Oncology, Emory University. What else would you like patients and families to know about you?
Dr. Kempton: My second job is mother of two boys, ages 8 and 5 years, and wife. My husband, Donald Harvey, is a hematology-oncology pharmacist who is very supportive of my work. He is a great father, too. My weekends are filled with sporting events, Cub Scouts, play dates, and keeping the house running. I do try to squeeze in my own exercise and an occasional sprint distance triathlon. I find working out a few mornings a week to be essential to keeping my head on straight.
Thank you, Dr. Kempton!