Join us in Columbus for the Trot to Clot Walk and Run
Horizons in Hemophilia, September 2013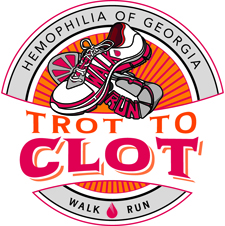 By Kirstin Downie, Director of Development
Register now for the Trot to Clot Walk and Run at Rotary Park in Columbus! Join us on Saturday, September 28, 2013 to raise money for Camp Wannaklot. Camp Wannaklot is the only summer camp in Georgia that gives children with hemophilia and other inherited bleeding disorders the opportunity to enjoy a traditional camp experience.
We welcome walkers, runners, teams, and spectators to come out for this fun, family-centered event. Registration information is available online at www.hog.org/trot. Sign up before September 13th to guarantee you receive a free t-shirt. Prizes will be awarded to the top two individual fundraisers and the team with the most creative team t-shirt! If you live in the Columbus area and would like to volunteer before or during the event, please contact Lorraine Scollan at 770-518-8272 or ljscollan@hog.org.
Companies can support the Trot to Clot Walk and Run fundraising event by becoming a corporate sponsor. Sponsors will gain valuable recognition in the community, demonstrate their dedication to corporate philanthropy, and help provide much-needed funds. To find out about sponsorship opportunities, contact Kirstin Downie at 770-518-8272 or kmdownie@hog.org.