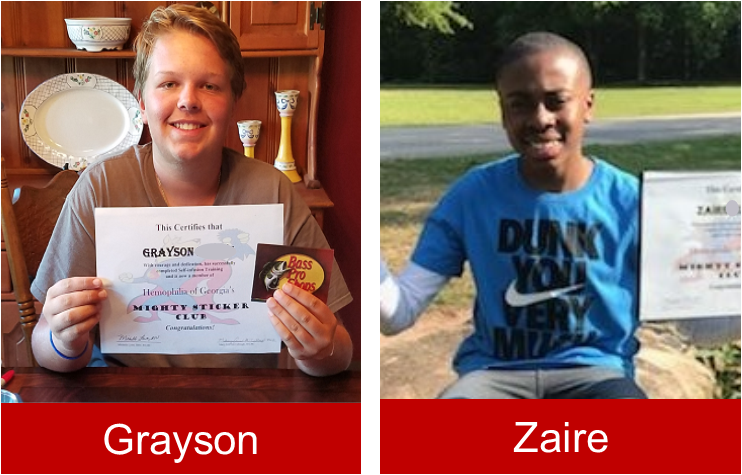 Mighty Sticker Club
Welcome to Grayson and Zaire, our newest members of the Mighty Sticker Club. To become a member, one must master the steps of self-infusion, including mixing factor, selecting a vein, sticking oneself, infusing factor, and completing a treatment calendar.
Grayson is 14 years old and will attend high school this year. He has attended Camp Wannaklot for seven years. He is quite the outdoors man and loves to fish and hunt. He can't wait to go fishing again this year at camp. His outreach nurse, Mary Ann, credits Grayson's father for his success. "He's been a huge part in infusion training." Mary Ann shared, "Grayson is a great kid and wants to get involved with the HoG Leaders in Training (LIT) program and attend the Georgia Teen Institute." Mary Ann is excited with his progress. "Way to go Grayson!"
Zaire is 13 years old and attends middle school. He has attended Camp Wannaklot for six years. He loves the adventurous activities, like the ropes course and climbing tower. Like many kids, he loves video games. He also likes to play basketball. Zaire shared that his father is his role model and he enjoys spending time with him. His outreach nurse, Carlos, told us, "I always look forward to seeing Zaire. He has a great attitude and I am proud of him for taking this important step toward independence."
The boys were awarded Mighty Sticker Club certificates and gift cards for their effort. Congratulations!