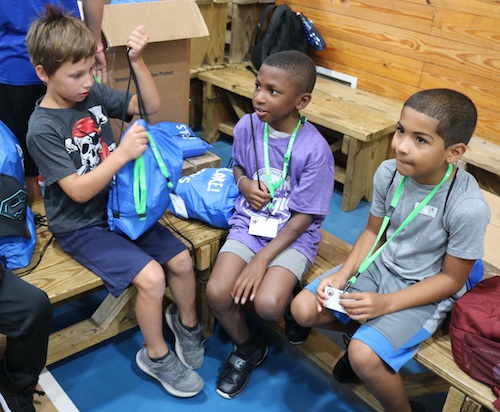 Camp Wannaklot: The First-time Camper Experience
Since the early 1990s, Hemophilia of Georgia has offered Camp Wannaklot each summer for young people with inherited bleeding disorders. The week-long residential camp, held at Camp Twin Lakes in Rutledge, accepts eligible campers ages 7 to 17. For parents, sending their child away for a week for the first time can be difficult. In July 2019, we talked to a first-time camper, Nate, age 7, and his mom Amy before, during, and after camp about their experience. We also talked to Greg, the Lead Counselor in Nate's cabin. They hope their words will encourage others to come to Camp Wannaklot.
Nate is a typical 7-year-old with severe hemophilia. His parents aren't overly protective, but they are cautious in choosing activities for him. Because Amy's brother has hemophilia and had attended Camp Wannaklot, she was aware of camp.
"I know that camp is offered to all children in the bleeding disorders community," Amy said, "and it's set up to be a week of fun and care for the kids." When she got the camp invitation, she had some hesitation. Nate had never been away from home for more than three nights – and that was only with relatives. "I think he's ready for more independence – he loves the outdoors and new experiences. I think he will have a lot of fun. He's ready for camp – it's me who needs more preparing."
It helped Amy to talk with Nate's HoG Outreach Nurse, Karen Clark. Karen had advocated for Nate to go to camp because she had seen first-hand how much kids benefit from the experience. Karen arranged for Amy to talk to another mom whose child had attended camp. In the end, Amy was convinced. "I think the great thing for me is that it looks like it's going to be a great experience for Nate. I take comfort in the doctors and the HoG nurses being there at camp."
To help Nate get ready, he and his mom looked at photos and videos of camp on the HoG website. When asked what he knew about camp, Nate replied, "Not that much – you get to spend the night. You get to swim, bike, and canoe."
He was most excited about the biking. He had just started riding a bike two months before. He said there wasn't too much about camp that was worrying him, but he didn't know anyone, other than his outreach nurse, who would be there.
Amy was also helped by the "Parent Guide to Camp Wannaklot" – the booklet mailed to all parents before camp. It describes camp, gives tips on preparing your child, and suggests what to pack. Amy found it so helpful she brought it with her when she dropped Nate off at the Hemophilia of Georgia office on July 21. Like many campers, Nate was taking the chartered bus from Atlanta for the 67-mile ride to Camp Twin Lakes. (Buses also pick up campers in Savannah, Augusta, and Cordele.) Hemophilia of Georgia staff check-in campers at the bus stops and ride with them to camp.
When the bus arrived at camp, Nate and the other campers were greeted with cheers by the Camp Twin Lakes counselors and escorted into the gym to find their cabin group. Each cabin consists of up to nine boys or girls and three or four volunteer counselors. One volunteer is the Lead Counselor – someone who has been at camp for several years and shown exceptional skill in working with campers.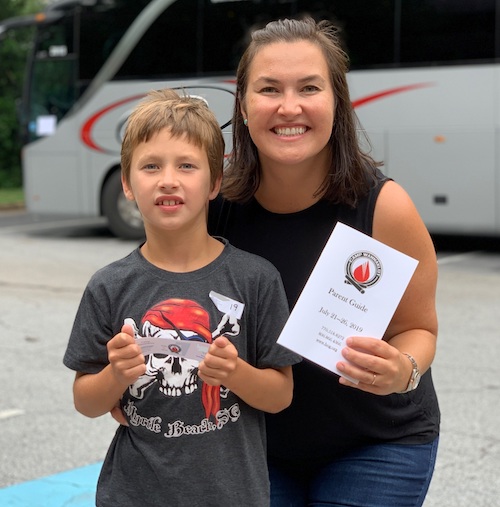 Nate's Lead Counselor was Greg, who was volunteering at camp for the fourth time. Greg decided to be a counselor at Camp Wannaklot because his own kids had been coming for several years. "I felt I could come and help keep the program strong," he said. He works well with the young campers and appreciates the challenge of being with boys who have rarely been away from home and who have never stayed for a week with 12 strangers in a cabin.
Greg says the most important quality for a counselor is patience, especially when dealing with a camper's homesickness. He says he knows that some of his campers are "going to have that homesickness" and "it can switch at a moment." To prevent it, "they have to be kept occupied. When they have too much downtime is when the homesickness can kick in."
By mid-week, Greg had dealt with homesickness in two campers. The first episode happened at bedtime. A camper began to cry and said he missed his mom. Greg talked to him, reminded him of the fun he had that day and what activities they were going to do the rest of the week. He helped him write a letter home, telling his mom about camp.
The second case of homesickness was more subtle. The boy started complaining that his stomach hurt. After a trip to the med lodge found no physical problems, Greg and the other counselors made a special effort to help the camper interact more with his cabinmates. It worked. As the camper felt more connected with the other boys, the stomachaches went away.
As a camp counselor and a parent, Greg has advice for parents who are preparing their children for camp: "Reinforce with them the fun they are going to have. Help them understand how many days they'll be at camp and that then you'll be with them again." He acknowledges that 7-year-olds "don't have a real concept of time – their inner clock is so bad." Counselors help by showing them a calendar of the week with each day's activities. They can look forward to upcoming events and mark off each day as it passes.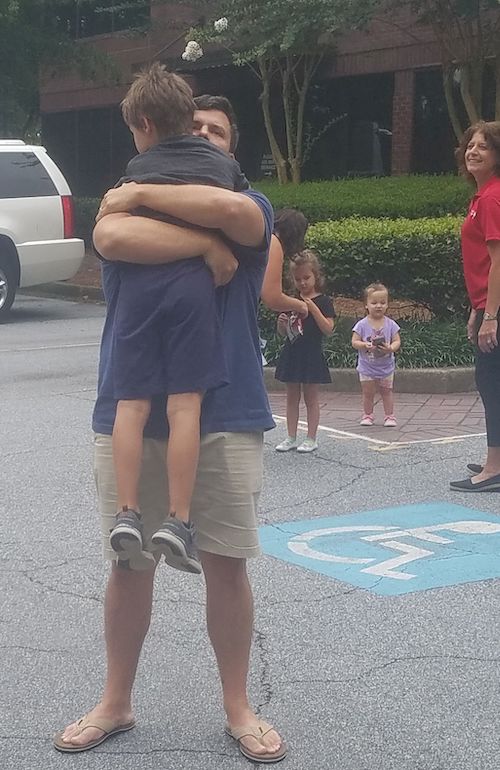 Back at home during the camp week, Amy said, "It's been a long week! It has been so quiet at my house." She said it was "weird not being able to contact Nate at all." (Because talking with a camper on the phone can increase rather than decrease homesickness, parents are encouraged to call the camp director or outreach nurse if they need an update on their child).
She said Nate had "been a little fearful a couple of days before camp." She sat with him at the computer and Googled photos of Camp Twin Lakes. Looking at the smiling campers having fun at archery and in the pool was encouraging. Nate pointed at the activities he liked and said, "I'm going to do that." Amy said she hadn't realized how much control she usually keeps over Nate until he was gone. "I'm used to knowing every adult he's going to be with." She was very curious about his counselors and how Nate was getting along. "I waited a full day before I texted Karen his nurse!"
On Friday at the end of camp, Nate went home happy but tired. After he and Amy had time to reflect on the experience, we asked them to tell us their thoughts. Nate said his week had some "good and bad but kind of good." He was surprised that paddleboats were not as much fun as he expected. He did like bike riding. At home he only wears a helmet. At camp they also wore elbow and knee pads. While "the pool was not as big as I thought," he hadn't realized there was a twisting slide – "it was fun!"
Amy said Nate came home "worn out" but that he had "a great time." He had made a great new friend. She was surprised that he talked a lot about ceramics and making objects with clay. They hadn't even realized that was a camp activity.
She said Nate had "learned a lot about his bleeding disorder." He's in the "Sub Q Club" and his friend is in "The Butterfly Club." The "Sub Q Club" is for kids learning to give their hemophilia medication through an injection under the skin (subcutaneous). "The Butterfly Club" is for those learning to give the medication through a butterfly needle directly into a vein. Amy said she and Nate are looking forward to attending Family Camp so the whole family can experience the Camp Twin Lakes activities.
Camp Wannaklot will be held July 19 – 24, 2020, with volunteer counselors arriving a day earlier on July 18. Reservation cards will be mailed to eligible campers by March. To learn more about attending Camp Wannaklot as a camper or volunteer counselor, visit https://www.hog.org/camp/.