Camp Wannaklot

Camp Wannaklot, a week-long residential summer camp, is the only camp in Georgia that provides children who have hemophilia or other bleeding disorders the opportunity to enjoy a traditional camp experience. During this fun-filled week, campers make new friends, learn about their bleeding disorders, and share new experiences.
Camp Wannaklot campers are divided into two age groups. Junior Camp is for campers age 7 to 12, while Teen Camp is for campers age 13 to 17. All campers will participate in a wide variety of fun activities including horseback riding, canoeing, mountain biking, arts and crafts, swimming, basketball, tennis, and archery.
Camp Wannaklot is designed to ...
Give children with hemophilia and other bleeding disorders a special and safe place to spend part of their summer and have fun.
Provide an environment to promote growth of self-esteem, self-reliance, emotional development, and creativity.
Provide an educational opportunity to teach children about hemophilia and other bleeding disorders by participating in the process of peer education and support, and by the presence of trained medical staff.
Encourage an appreciation of and promote a greater understanding of the environment and natural surroundings by supporting the camper's active participation in the outdoor camping programs.
Uphold the responsibility of treating each child as an individual with unique physical and emotional needs.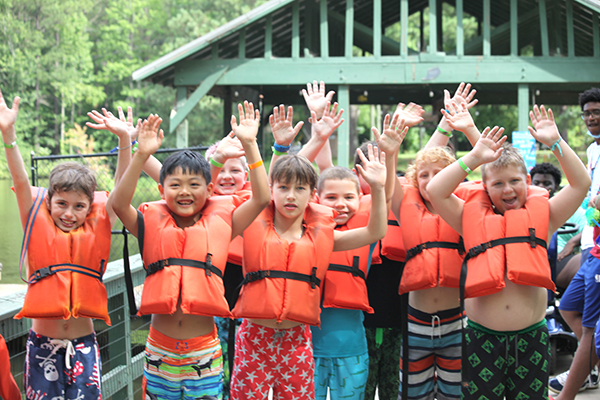 Partners, Volunteers, and Supporters Make it Possible

Hemophilia of Georgia partners with Camp Twin Lakes in Rutledge, Georgia to provide facilities, programming, personnel for specialized programming, and food service for our campers.
Camp Wannaklot depends on the dedicated efforts of more than 100 volunteers. Find out more about becoming a volunteer.
Camp Wannaklot wouldn't be nearly as much fun without the generous support of individuals and corporate donors. Find out more about Camp Wannaklot sponsorship opportunities.
For more information about Camp Wannaklot, contact the Director of Camp and Client Events.