Helping Your Child Adjust to Camp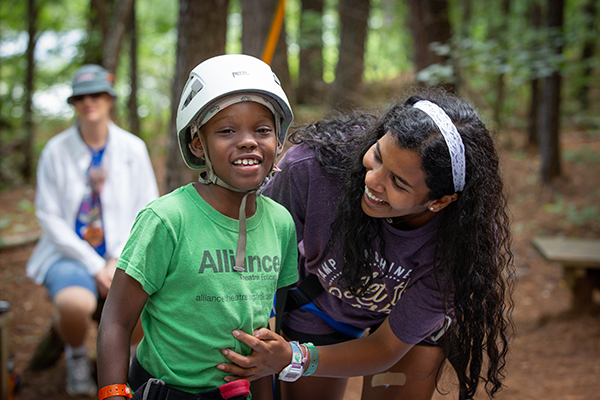 Quite often we have first time campers ask, "Can my mom come with me?" As a parent you might hear, "If I do not like it, do I have to stay?". It is very common for children to have some anxiety when leaving home for an extended period of time. For many, this will be the first time away from home. Upon arrival, the newness of the camp environment, making new friends, and the natural longing for the "old and familiar" make moments of homesickness possible for many.
Experience has taught us to expect the symptoms of homesickness to occur over the first two days of camp - often during rest period and at bedtime. Most often after a few reassuring conversations with counselors and with the security of new friends and activities, the homesickness goes away.
Here are some tips to help prepare your child for camp and the possibility of homesickness:
Prior to Camp
Practice short overnights prior to camp. A night away at grandma's house is an easier stepping stone than a week away at camp. We don't recommend camp as your child's first overnight experience.
Have a positive family attitude about camp. Avoid phrases such as "I don't know what I'm going to do without you," "I'm going to count the seconds until you return," or "I'm worried that you're going to get eaten by a bear." These are just some of the things that parents can say that increase a camper's anxiety about going away from home for a week.
Discuss expected camp activities. There are a lot of fun activities that are offered at camp. There are the Climbing Tower, Zip Line, Archery, Paddle Boats, Swimming, and Biking just to name a few.
Give gentle encouragement that missing home is okay. Studies show that 95% of campers have at least one moment of feeling "homesick." These feelings are completely normal and it helps for the child to know that those feelings are "okay."
Avoid phrases such as, "If you stay until Wednesday, then we will come and pick you up." Children are more likely to get homesick if they have low expectations of camp, felt forced to come to camp, or if their parents express doubt or anxiety about their going to camp.
During Camp
When writing letters to your child, avoid phrases such as "we miss you", "wish you were here" or detailed accounts of what siblings and the family are doing. Ask about camp activities, counselors and special programs. Set a positive and encouraging tone in your letter. Express your confidence in his/her ability to be away from home. Explain that the counselors are there to assist him or her.
If you feel the need to call and check on your child, you may call Camp Twin Lakes at 706-557-9070 ext. 240 or you may call the Camp and Activities cell phone at 404-218-0361 and leave a message for the camp director. Your call will be returned as soon as possible.