The Hemophilia of Georgia Pharmacy
Hemophilia of Georgia's nonprofit pharmacy provides convenient home delivery of clotting factor products and infusion supplies to treat hemophilia, von Willebrand Disease, and other bleeding disorders.
HoG's pharmacists have decades of experience dispensing clotting factor medications and work closely with the hemophilia treatment centers and the HoG outreach nurses to coordinate patients' treatment plans.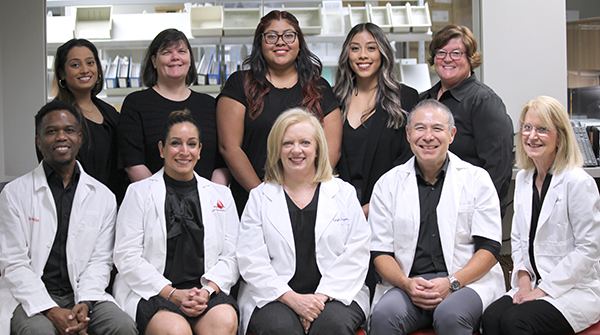 Hemophilia of Georgia was one of the first hemophilia entities approved for eligibility under the federal 340B program and our nonprofit pharmacy provides discounted clotting factor to eligible individuals across Georgia.

The Hemophilia of Georgia and Beacon pharmacies are URAC accredited, which is the gold standard for specialty pharmacy accreditation. Specialty pharmacies play an increasingly important role as a member of the patient management team. They help guide care plans to improve patient outcomes and financial outcomes. This accreditation ensures you are getting the most comprehensive care from our clinical staff as possible.


The Hemophilia of Georgia pharmacy is accredited by the Accreditation Commission for Health Care, Inc. In addition to serving patients who live in Georgia, the HoG pharmacy has licenses in Alabama, Florida, Illinois, Louisiana, Mississippi, Missouri, North Carolina, Pennsylvania, South Carolina, and Tennessee.
We do our best to make you happy. If you have any problems with our pharmacy, please contact us directly at 770-518-8272 or email pharmacy@hog.org. However, you also have the ability to report a complaint directly to one of our accrediting agencies. You may file a grievance about the pharmacy with URAC online. To report a complaint to ACHC, call 919-785-1214.

Why Choose the Hemophilia of Georgia Pharmacy?
HoG stocks a wide variety of factor products in different assays to meet each patient's needs.
Ordering from the HoG pharmacy is easy. Patients can order online or use a toll-free number to order by phone.
HoG ships medications and supplies directly to patients' homes or offices.
Pricing is competitive and care is seamlessly coordinated with the HTC and outreach nurses.
Managed Care and Insurance
Medical insurance issues can be complicated, especially when coping with a chronic condition like a bleeding disorder. Hemophilia of Georgia is a Medicare and Medicaid provider and has contracts with many private insurance companies.
Hemophilia of Georgia's billing services staff helps patients understand their insurance coverage and works closely with patients and their insurance companies.
Hours of Operation:
9:00 a.m. - 5:00 p.m. Monday-Friday. We are closed on weekends.
After Hours:
To speak to a pharmacist after hours, call 770-518-8272 or (800) 866-4366.