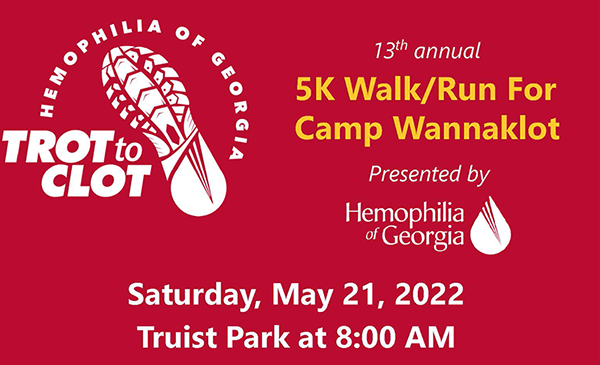 Save the Date for Trot to Clot!
Mark your calendars and get your New Year goals off to a great start at our 2022 Trot to Clot, a 5K Walk/Run, on Saturday, May 21, 2022, at The Battery @ Truist Park!  You can help Hemophilia of Georgia raise money to send children to Camp Wannaklot by participating in the Trot to Clot Walk/Run. 
Camp Wannaklot is the only camp in Georgia that provides children and teenagers who have hemophilia or other inherited bleeding disorders the opportunity to have a wonderful time, while experiencing new adventures, making new friends, overcoming fears, and learning about their own bleeding disorder.
There are several opportunities for companies to support the Trot to Clot Walk/Run by becoming a corporate sponsor. If you are interested in sponsoring the Trot to Clot Walk/Run in May, please contact Vic McCarty, Chief Development Officer, 470-621-0585. More event information will be available soon on our website.
Upcoming Events
Hemophilia of Georgia has several wonderful events throughout the year. Check out what is coming up!
Trot to Clot Walk/Run on Saturday, May 21 at The Battery @ Truist Park. 
40th Anniversary Hit 'Em for Hemophilia Golf Tournament on Tuesday, November 1 at the Golf Club of Georgia from 7:00 am-7:00 pm.