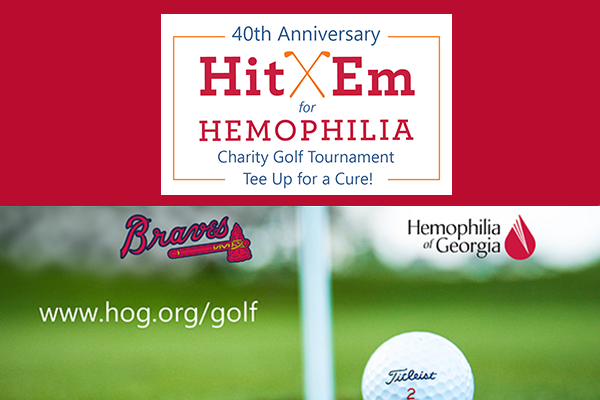 40th Anniversary Hit 'Em for Hemophilia Golf Tournament
It's time to tee up for a cure! Join us for the 40th Anniversary of our Hit 'Em for Hemophilia Golf Tournament on Tuesday, November 1, 2022 from 7:00 am-7:00 pm at the Golf Club of Georgia in Alpharetta. This tournament is recognized as one of the premier charity golf tournaments in the Southeast and has raised millions to fund vital research towards a cure for hemophilia.
We will be playing alongside some of our favorite Atlanta Braves while enjoying food and beverages from local vendors. Past celebrity players include Tom Glavine, John Smoltz, Andruw Jones, Brian McCann, Dale Murphy, Brian Snitker, the late, great Phil Nikro…and of course, Bobby Cox! We will follow up a round of golf with live and silent auctions and a relaxing, casual reception immediately after play. It is sure to be an event to remember! We hope you will join us. Net proceeds will fund bleeding disorder research for a cure. Sponsorship opportunities are available. To register to participate or learn more about sponsorships, visit hog.org/golf.
If you would like to become a sponsor or have questions, please contact Vic McCarty, Chief Development Officer, at 770-518-8272 or sponsorship@hog.org.