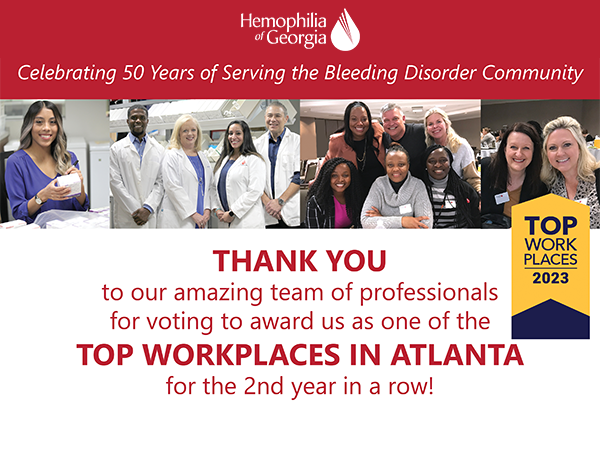 Hemophilia of Georgia is Named a Winner of Atlanta Top Workplaces For 2nd Year in a Row by The Atlanta Journal-Constitution
We are proud to announce that Hemophilia of Georgia (HoG), a nationally and internationally recognized nonprofit organization and a premier provider of programs and services for people with hemophilia, von Willebrand Disease, and other inherited bleeding disorders, has been awarded a 2023 Top Workplaces honor by The Atlanta Journal-Constitution. This is the second year in a row that HoG has been given this award.
The Atlanta Journal-Constitution's Top Workplaces celebrates organizations that have built outstanding cultures. Earning the trusted gold badge is a symbol indicating a company outperforms the competition in a crowded market. The Atlanta Top Workplaces list is based solely on employee feedback gathered through a third-party survey administered by employee engagement technology partner Energage, LLC. The anonymous survey uniquely measures 15 culture drivers that are critical to the success of any organization: including alignment, execution, and connection, just to name a few.
Creating a Top Workplace is so much more than offering great benefits and vacation time, although that is important as well! It is also about creating great culture and organizational health. Employees want to align with the company's vision and know they are valued.
"At Hemophilia of Georgia, we are very proud of the culture we have created. We know our employees feel most empowered and inspired when they know their voices are heard, they are given opportunities to grow, they feel appreciated, and their work is purposeful and has meaning. We worked hard to create a culture that encourages employees to give their best to serving the bleeding disorder community, while building a better future for themselves and their families," stated CEO Edith Rosato. "We have an outstanding team of dedicated professionals who go above and beyond every day and make our organization truly remarkable. Hemophilia of Georgia is honored to receive a 2023 Atlanta Top Workplaces Honor by The Atlanta Journal-Constitution."
Hemophilia of Georgia (HoG) offers a generous benefits package and employees were beyond excited to learn about the organization's new "Be Well" wellness program that offers 12 paid days off (once a month), in addition to their generous vacation time, federal holidays, and birthday off! The wellness days are extra time for employees to focus on their own personal health and well-being.
One employee, Sophia Dizon, who joined the organization in 2022, shared her feelings about HoG's wellness program. "When I first came to Hemophilia of Georgia and found out that our CEO, Edith Rosato, gives us 12 days off with pay as part of the wellness program, I was very surprised and happy! Edith is very generous and truly cares about HoG employees and their families. The gift of time to focus on ourselves and our personal wellness is a wonderful gift. It makes us healthier, happier, and more productive employees, so we can better deliver on our mission. I am so grateful to work in such an amazing and forward-thinking organization."