Horizons in Hemophilia, September 2013
New Recombinant Factor IX Treatment approved by the FDA
By Leigh Carpenter, RPh, Director of Pharmacy
Baxter has announced that the Food and Drug Administration (FDA) has approved RIXUBIS for hemophilia B. It is the first new recombinant factor IX product approved in more than 15 years. Read More

Back to School with HoG
By Rueleen Kapsch, RN, Quality Assurance Nurse

It is back to school time for students in Georgia. Hemophilia of Georgia Outreach Nurses visit schools and day care centers to educate teachers, school nurses and staff about hemophilia, von Willebrand Disease and other bleeding disorders. Read More


Interview with Christine Kempton, MD
By Cathy Hulbert, LCSW, HoG Social Worker
Emory physician Christine L. Kempton, MD, MSc, known to many adult clients as their friendly primary hematologist, has taken a major new role in the Georgia bleeding disorder community. Earlier this year she was promoted to Director of the Hemophilia Treatment Center at Emory University and the Children's Healthcare of Atlanta Comprehensive Hemophilia Program. Dr. Kempton is also the Medical Director of the Southeast Region.

Read More

Join us in Columbus for the Trot to Clot Walk and Run
By Kirstin Downie, Director of Development
Register now for the Trot to Clot Walk and Run at Rotary Park in Columbus! Join us on Saturday, September 28, 2013 to raise money for Camp Wannaklot. Camp Wannaklot is the only summer camp in Georgia that gives children with hemophilia and other inherited bleeding disorders the opportunity to enjoy a traditional camp experience.

Read More

Mark Your Calendar for the 31st Annual Hit 'Em for Hemophilia Golf Tournament
By Kirstin Downie, Director of Development
On Tuesday, October 29th, Hemophilia of Georgia will host the 31st annual Hit 'Em for Hemophilia Golf Tournament at The Manor Golf Course and the Alpharetta Athletic Club in Alpharetta. We are pleased to once again have the Atlanta Braves players, alumni, managers and coaches join in our efforts to raise $250,000 for research to find a cure for hemophilia.

Read More

Loving Aunt Runs 160 Miles in Six Days to Raise $40,000 for Hemophilia Research
By Karen Daniel
Stefanie, her husband Brennan, and their friend Robert ran the Marathon des Sables in Morocco in early April to raise money for hemophilia research. Their 160 mile race in the desert raised more than $40,000.

Read More

Camp Wannaklot 2013
By Kim Wilson, Camp & Activities Coordinator

This summer, Camp Wannaklot celebrated 20 years of serving kids who have hemophilia or other inherited bleeding disorders. Our theme, 20 years of camp, revived a previous camp theme each day. Camp Wannaklot is made possible by the volunteer camp counselors, medical staff and HoG staff who commit to making a difference in the lives of our campers. Read More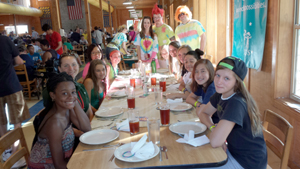 Voluntary Recall Issued for Certain Lots of Monoject Prefill Flush Syringes
By Karen Geney, Compliance Officer

The National Hemophilia Foundation issued Medical Advisory #416 on August 23, 2013 announcing a voluntary recall of certain lots of Monoject™ prefill flush syringes due to the syringes being filled with water that had not been subjected to their autoclave sterilization process.

These syringes are NOT carried in the HoG and Beacon pharmacies. If you order from another pharmacy, please check to see if you have any of these syringes. Read More


View the clinic schedules for the Georgia Hemophilia Treatment Centers.

Have you read HoG's Blog?