Loving Aunt Runs 160 Miles in Six Days to Raise $40,000 for Hemophilia Research
Horizons in Hemophilia, September 2013
By Karen Daniel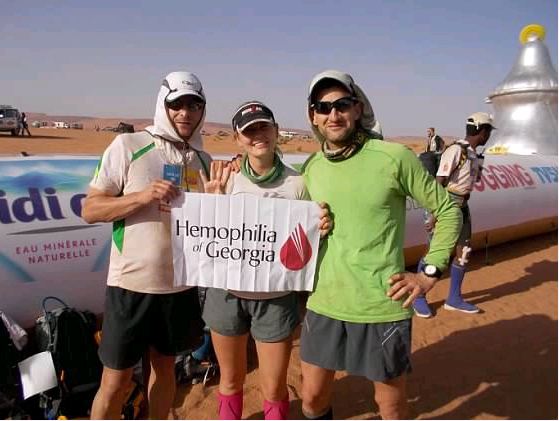 Stefanie, her husband Brennan, and their friend Robert ran the Marathon des Sables in Morocco in early April to raise money for hemophilia research. Their 160 mile race in the desert raised more than $40,000.
Stefanie's nephews, Forrest and Brantley, have hemophilia. Stefanie says she runs marathons because they can't. She explains, "We are a very athletic family. The kids can't do everything they want to and I'm fortunate to be able to run. I wanted to do something great—something larger than me."
Stefanie has been a competitive runner since she was in the 5th grade and has always wanted to run the Marathon des Sables. The Marathon des Sables is a six-day, 150 mile stage race through the Sahara Desert and is considered the toughest foot race on Earth. Stefanie and her team applied to be a part of the United States contingent and were accepted from among hundreds of applicants.
According to Stefanie, the most difficult part of the marathon was the day they ran 50 miles. "It was exhausting. The terrain was more difficult than I expected and I was carrying a 20 pound backpack. I just said Forrest and Brantley's names over and over to get through it."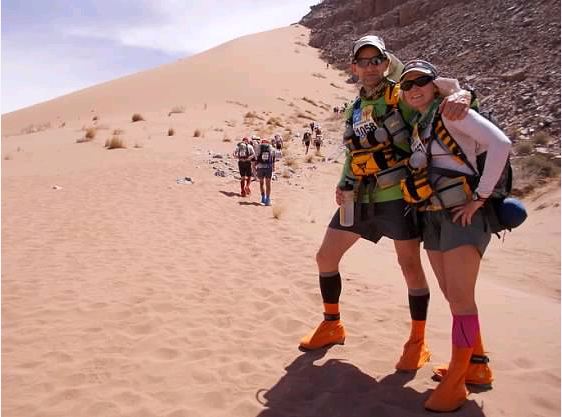 She and her team, known as Team Romanov, raised more than $40,000 for hemophilia research. She asked friends, neighbors, and co-workers to sponsor the team's participation by making donations on the Hemophilia of Georgia website. Stefanie believes that since hemophilia is manageable with clotting factor concentrate, it might not be getting as much research as other disorders or illnesses that are more life-threatening.
Forrest, the older of Stefanie's nephews, self-infuses the clotting factor medication he needs to stop or prevent internal bleeding. According to Stefanie, "I could never do that!" She hopes that the funds she raised will be used to develop longer-acting factor products so that the boys don't have to have so many infusions each week.
Even though she suffered blisters and exhaustion and slept in an open air tent in the desert, Stephanie says, "it was a magical experience. I was so glad to be representing Hemophilia of Georgia and I learned that you can live without modern conveniences." She says it was an experience that will stay with her forever.
Hemophilia of Georgia is grateful to Stefanie, Brennan, and Robert for their dedication and willingness to raise money for hemophilia research. Online donations are still being accepted at www.hog.org/teamromanov .