Mark Your Calendar for the 31st Annual Hit 'Em for Hemophilia Golf Tournament
Horizons in Hemophilia, September 2013
By Kirstin Downie, Director of Development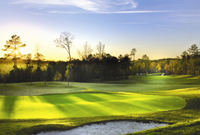 On Tuesday, October 29th, Hemophilia of Georgia will host the 31st annual Hit 'Em for Hemophilia Golf Tournament at The Manor Golf Course and the Alpharetta Athletic Club in Alpharetta. We are pleased to once again have the Atlanta Braves players, alumni, managers and coaches join in our efforts to raise $250,000 for research to find a cure for hemophilia.
Golfers will enjoy a wonderful day of golf, prize holes and "food hole" refreshments provided by Atlanta restaurants. A dinner reception will immediately follow the tournament. During the reception, prizes will be awarded to the 1st and 2nd place team from each of the two courses, and to the Closest to the Pin and Longest Drive winners from each course. The reception also features silent and live auctions with exclusive Atlanta Braves memorabilia and specialty sport, music, art, jewelry, and travel auction items.
Corporations of all sizes are invited to participate in the golf tournament and sponsorship packages can be tailored to meet the needs of any organization. Levels of sponsorship will determine the number of golfer slots, course assignments, extent of media coverage, company signage and community marketing exposure.
HoG thanks the following organizations for their corporate sponsorship of the 2012 golf tournament: The Atlanta Braves; Lazer Spot, Goodman Networks; Baxter Healthcare; CSL Behring; Novo Nordisk; Pfizer; AT&T Mobility; Delta Air Lines; Tyco Integrated Security; Ericsson; Bayer Healthcare; TEKsystems; Cruser & Mitchell, LLP; Merrill Lynch; Green Mountain Consulting; Biogen Idec Hemophilia Care; Inspiration Biopharmaceuticals; Coca Cola Refreshments; Hardy Chevrolet; Virgil P. Warren Foundation and United Distributors.
Individuals interested in volunteering for the golf tournament should contact Lorraine Scollan at ljscollan@hog.org. Volunteers must be at least 21 years old and have a current volunteer application on file at HoG.
For additional information regarding the Hit 'Em for Hemophilia Golf Tournament, please contact Kirstin Downie at 770-518-8272 ext. 213, kmdownie@hog.org, or visit www.hog.org/golf.