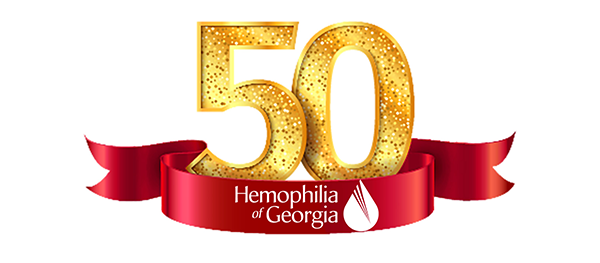 Hemophilia of Georgia Celebrates 50 Years of Serving the Bleeding Disorder Community
Happy New Year! We are very excited to announce that 2023 marks the 50th anniversary of the founding of Hemophilia of Georgia (HoG) when our initial charter as a nonprofit organization was granted. At the time, there were no Hemophilia Treatment Centers (HTCs) in Georgia. A group of families joined together and worked hard to build an organization that would offer quality care, knowledge, hope, and a sense of community. The Allen, Acree, Harris, Mitchell, and Thomas families were instrumental in organizing the Georgia NHF Chapter. And as a result, Hemophilia of Georgia (HoG) was given $100,000 from the state of Georgia to provide medication and services to people affected by hemophilia. HoG was initially established as a buying co-op for clotting factor. Its objective was to keep the costs low and to use any surplus to pay for the uninsured and those who couldn't afford factor.
John Mitchell and Bill Acree were elected co-presidents. Bill traveled with the Atlanta Braves and was able to visit HTCs across the country to learn about best practices. John and Rebecca Acree organized chapter activities locally. John Youtsey, a former professor and associate dean at Georgia State University, served as the chairman of the HoG board.

In 1973, HoG was staffed by a medically-trained program director and a part-time secretary. Three years later in 1976, an outreach nurse was added. Now, we have a staff of 65 professionals and Hemophilia of Georgia is a nationally and internationally recognized nonprofit organization and a premier provider of programs and support services for people with hemophilia, von Willebrand Disease, and other bleeding disorders. It is the only agency of its kind in the state and is dedicated to enhancing the health and wellness of the bleeding disorders community by providing excellence in comprehensive health care, education, advocacy, and the support of research to transform lives.
Hemophilia of Georgia now provides funding to HTCs in Atlanta, Augusta and Savannah. Through these centers, children and adults who have hemophilia or other inherited bleeding disorders receive personalized, comprehensive care. HoG is committed to access to quality, comprehensive care and making life a little easier for its clients so that they can live as normally and productively as possible.
When Hemophilia of Georgia was founded in 1973, a person having a bleed had to quickly travel to a hospital emergency room for treatment and were often hospitalized for long periods of time. Now, with advances in treatment, prophylactic medications, and infusion training from Hemophilia of Georgia nurses, children can usually be treated quickly at home and avoid serious bleeds that require a hospital visit.
In 1973, children who had hemophilia didn't have a summer camp to go to. Now, they have Camp Wannaklot, a camp specifically designed to provide children and teenagers who have hemophilia or other inherited bleeding disorders the opportunity to have a wonderful time, while experiencing new adventures, making new friends, overcoming fears, and learning about their own bleeding disorder. This year, Camp Wannaklot will celebrate its 30th season and plans to welcome over 100 campers and 50 volunteers!
When Hemophilia of Georgia was founded in 1973, the newly-developed clotting factor concentrate cost about $7,000 per year. Today, factor concentrate and other bleeding disorder medications can cost on average anywhere between $100,000-$500,000 per year, depending on product and dosage.
In 1974, former United States President Jimmy Carter, who at the time was Governor of the State of Georgia, proclaimed July as Hemophilia Month to educate the public and to raise funds. Seven-year-old Jeff Ball represented the hemophilia community for HoG that year and was there for the signing of the official proclamation.
Since its inception, Hemophilia of Georgia has always supported research to improve outcomes for people with bleeding disorders. In 2012, HoG contributed over $8 million to fund research for gene therapy research at two institutions: St. Jude Children's Research Hospital in Memphis, Tennessee and the Aflac Cancer and Blood Disorders Center at Emory University, Atlanta. These contributions are to develop a cure for hemophilia. Our Hit 'Em for Hemophilia Golf Tournament, Trot to Clot 5K Walk/Run, and Hops for Hemophilia fundraising events have raised millions of dollars for research for a cure. And now, we are closer than ever to finding new treatments and potentially a cure for Hemophilia!
Nearly everything about the treatment and care of hemophilia and other inherited bleeding disorders has changed since HoG began in 1973. What hasn't changed, is the dedication and commitment of Hemophilia of Georgia's professional staff, generous donors, and wonderful volunteers to make things better so that people affected by bleeding disorders can live as normally and productively as possible. As we all know, it takes so much more than medicine!
Please join us as we celebrate Hemophilia of Georgia's 50th anniversary! We arrive at this point grateful to each of you in the bleeding disorder community for your steadfast support. Thank you to all those who helped make it all possible! This year, please consider making a contribution to HoG in honor of you or someone you know, who has made an impact at HoG. Happy New Year from all of us to all of you!