Horizons in Hemophilia June 2010

June 2010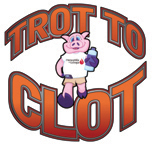 Trot to Clot Walk a Great Success!
More than 125 people participated in the Trot to Clot Walk on June 12 and we've raised $23,540 so far! We're so grateful to our corporate sponsors and to everyone who made a contribution or participated in the Walk. View photos from the walk.
Camp Wannaklot 2010 - Volunteers Needed
Hemophilia of Georgia's Camp Wannaklot is preparing for its 17th camping season. We anticipat

e more than 150 campers this year and need to ensure that we are adequately staffed. Camp Wannaklot is a co-ed residential camp where approximately 100 volunteer counselors and medical staff will be utilized during the one week of camp. That is why we need you for Camp Wannaklot 2010. Read more.
Camp Wannaklot Receives Tremendous Support
Camp Wannaklot has received contributions and generous support of nearly $30,000 for the 2010 camping program. This year Camp Wannaklot is about getting kids in the game using various board games for the theme and decorations. Donors are encouraged to make contributions to help put campers in the game! Read more.
Mario Receives Mighty Sticker Award
On April 27th, 9-year-old Mario S. received his Mighty Sticker Award at the Savannah Client Dinner. His parents, aunt and uncle were on hand to witness this memorable event along with other members of the bleeding disorders community in Savannah. Read more.
Congratulations to Kyle, HoG's Newest Mighty Sticker!
Twelve-year-old Kyle N. successfully completed self-infusion training and now joins the ranks of The Mighty Sticker Club. Kyle has attended Camp Wannaklot for the past five summers and it was there that he first became interested in learning how to self-infuse. Read more.
Become a Mighty Sticker!
Learning self-infusion or home infusion can save a family time and money by eliminating costly visits to the emergency room for treatment. It also helps kids and adults reduce the risk of injury, pain and joint deterioration by allowing them to treat right away, rather than prolonging the bleeding time. Read more.
Dear HoG
I see several doctors who each prescribe medications for varying conditions. How do I make sure that these medications don't interfere with each other and create other problems? Read more.
Spring Family Camp
More than 160 people, including staff and volunteers, enjoyed Family Camp at Camp Twin Lakes over Mother's Day Weekend. Families arrived on Friday evening and were greeted by volunteers and staff to assist with luggage and check-in. After dinner, the families participated in some icebreakers to get to know one another. Next, we went on a "Journey Around the World." Read more.
FDA Approves New Drug for VWD
In December 2009, Xanodyne Pharmaceuticals, Inc. announced FDA approval for Lysteda, a tablet form of tranexamic acid, used for treating heavy menstrual bleeding. Previously, this drug was only available in the United States as an injectable drug (Cyklokapron). Lysteda is now available through the HoG Pharmacy and Beacon Pharmacy. Read more.
Wilate Now Available in the U.S.
Octapharma USA has announced that Wilate, a newly-developed factor replacement therapy for von Willebrand Disease, is now available in the United States. The plasma-derived, von Willebrand Factor/Coagulation Factor VIII concentrate (Human) has been approved by the FDA for the treatment of spontaneous and trauma-induced bleeding episodes in patients with severe VWD as well as those who have mild or moderate VWD in whom the use of desmopressin (Stimate Nasal Spray) is known or suspected to be ineffective or contraindicated. Read more.
Grifols Products Now Include Mix2Vial
Grifols, the manufacturer of Alphanate, Alphanine and Profilnine will begin including new Mix2Vial needle-less filter transfer sets in their packaging. Read more.

The General Assembly's Page Program:
A Chance for Young People to See Government in Action
Hemophilia Day 2009 was 16-year-old Josette M's first time seeing the Georgia General Assembly in session. As she waited to talk to her senator, Ronald Ramsey, about the needs of people with bleeding disorders, she noticed the pages carrying messages in and out of the senate chamber. Curious, she asked how the young people were chosen for that role. Senator Ramsey put Josette on the list of potential pages and two weeks later she was called to serve. Read more.
Hemophilia of Georgia Honors Volunteers
On April 20th, at Anthony's Restaurant in the Buckhead section of Atlanta, approximately 50 volunteers attended the annual volunteer reception hosted by Hemophilia of Georgia. Based on years of volunteer experience, HoG honored and recognized all of our volunteers, and those in attendance received a small gift in appreciation of their service. Read more.
Board Member Spotlight - Meet Dr. Susan Moon
If you are a parent you have no doubt experienced your fair share of scheduled and unscheduled visits to the doctor. Although it should be no surprise, it is interesting to know that doctors with young children make their fair share of visits to a doctor's office for the same reasons we do. Case in point is Dr. Susan Moon (she prefers to go by Susan), who is not only a medical doctor, but also a fairly new addition to Hemophilia of Georgia's Board of Directors. Read more.
Photographer Needed
HoG needs a photographer! We're looking for a professional or very good amateur photographer to volunteer to take pictures at various events throughout the year. If you are interested in volunteering, please send a message to mail@hog.org. Thank you!
Clinic Schedules
View the clinic schedules for the Georgia Hemophilia Treatment Centers.
Client Dinner Photos
See photos from recent HoG Client Dinners.
---
Hemophilia of Georgia is not engaged in the practice of medicine and does not endorse or support any particular factor concentrate or treatment protocol. HoG recommends that you consult with your physician prior to starting any course of therapy. Occasionally HoG disseminates information on new treatments or therapies. HoG shares this for informational purposes only and makes no claim as to its accuracy or effectiveness.