Board Member Spotlight - Meet Dr. Susan Moon
Horizons in Hemophilia, June 2010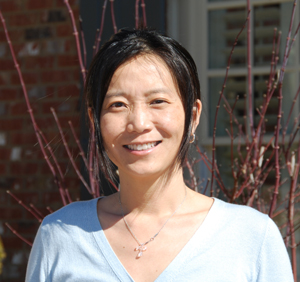 By Millie Rondon, Office Manager
If you are a parent you have no doubt experienced your fair share of scheduled and unscheduled visits to the doctor. Although it should be no surprise, it is interesting to know that doctors with young children make their fair share of visits to a doctor's office for the same reasons we do. Case in point is Dr. Susan Moon (she prefers to go by Susan), who is not only a medical doctor, but also a fairly new addition to Hemophilia of Georgia's Board of Directors.
During dinner at a recent board meeting I had the opportunity to chat with Susan. We talked about our children, the ever-increasing cost of medical insurance, her background, and a recent experience I had at a new doctor's office (not a good one in case you were curious). Susan went on to share an encounter she had when taking one of her children to one of those unscheduled visits to a doctor's office. What was most impressive was her approach and mindset when talking about her child's doctor visit. She left her credentials at the door and went as a concerned Mom. She knows first hand what it is like to want only the best care for any child, especially her own.
Susan was born in Kampala, Uganda, Africa. She lived there until she was six when her father (who was doing the Korean version of "Peace Corps" and who is now a retired physician) moved the family to Ohio. From the age of eight, Susan followed her father to his office and on hospital rounds and even worked as his secretary on Saturdays.
Susan received her BA in History and Science from Johns Hopkins University. She spent the next year working as a research lab assistant to a psychiatry professor at New York's Mt. Sinai Hospital. She left New York to attend medical school at Ohio State University, but not before meeting Peter, the man who would become her husband and later bring her to Atlanta.
After completing her residency at Georgia Baptist Hospital (now Atlanta Medical Center) in 1998 she went to work for the Primary Care Network of St. Joseph's Hospital. In between children, Susan worked as a consultant to WebMD.com, reviewing and critiquing articles on their internal medicine page. She was a part of Eagle Hospital Physicians at St. Joseph's for four years. For the last six years Susan has been a hospitalist with The Southeast Permanente Medical Group (medical group for Kaiser Permanente).
With her family, Susan has lived in Atlanta for 15 years and has been married for 16. She and her husband Peter have two children, Ethan (10) and Noah (7). Susan and Peter enjoy jogging through their neighborhood with the boys following along on their bikes. The family enjoys snowboarding in the winter and swimming in the summer. She also enjoys reading but said her favorite pastime is eating (although you would never know it to look at her).
The last thing you should know about Susan is that she writes goals for herself for every decade of her life. One of her goals was to serve in a volunteer capacity for an organization. Well as life would have it, Susan has a neighbor by the name of Janet Glass (former HoG Board Chief Governance Officer). Janet recruited Susan and now Susan has faithfully served on our board for the last 15 months. I guess Susan can now check that goal off her list! Thank you, Susan, for your dedication to HoG.