Trot to Clot Walk - SunTrust Park

The Trot to Clot Walk is a fun, family-friendly event that raises money for Camp Wannaklot, Georgia's only camp dedicated to children who have hemophilia or other inherited bleeding disorders.
Saturday, May 6, 2017
SunTrust Park in Atlanta
7 a.m. Registration
8 a.m. Walk
Registration is now open for the 2017 Trot to Clot Walk at SunTrust Park, the new home of the Atlanta Braves. Please click here to register. Our goal is to raise $50,000 for Camp Wannaklot.
Your adventure begins by parading around the lower level concourse and participating in fun, family activities along the course. You might spot the Chick-fil-A cow and Hope and Will's sandlot.
As you walk through the beautiful Monument Garden, which features audio, light and water elements, catch sight of the Braves' newly commissioned Hank Aaron statue.
It also happens to be Star Wars night at the Braves game that evening so some very special characters will be guiding you with the force on your morning walk. There will lots of entertaining contests along the way.
Registration includes:
Event T-shirt
The first 200 people to purchase a premium registration package will receive an Atlanta Braves vs. the St. Louis Cardinals game ticket for later that evening.
Goodie bag with promotional items and discounts
Family fun! As you parade around the stadium, there will be lots of exciting activities and surprises for everyone.
Fundraising
Want to be eligible to win two round trip Delta airline tickets? Just raise $2,000 or more and you will be entered into a drawing to win the tickets. Stay tuned for more information on fundraising prizes.
Want to start a fundraising page? If you click on Register Now on this page, you will be taken to the Active website. Click on the green "Register Now" button at the top of the page. Scroll down to find "Other - I want to be a fundraiser." You can reserve your tickets on this page as well and sign up to fundraise. To the right of "Fundraiser," increase the quantity to +1 and click to continue. Under "Giving," select the radio button "Create a fundraiser on your own." Your fundraising team will be created after your registration is completed. A detailed team setup can be done in Crowdrise.com. If you have questions, contact Paula Fine at prfine@hog.org or 770-518-8272.
Become a Corporate Sponsor
There are several opportunities for companies to support the Trot to Clot Walk by becoming a corporate sponsor. Companies will gain valuable recognition in the community, demonstrate their dedication to corporate responsibility, and provide much-needed funding for Camp Wannaklot.
All sponsorship levels come with various recognition opportunities and can be customized to fit your company's marketing and responsibility goals. Ready to support Camp Wannaklot? Please contact Sarah Weikert at 678-232-5253 or srweikert@hog.org.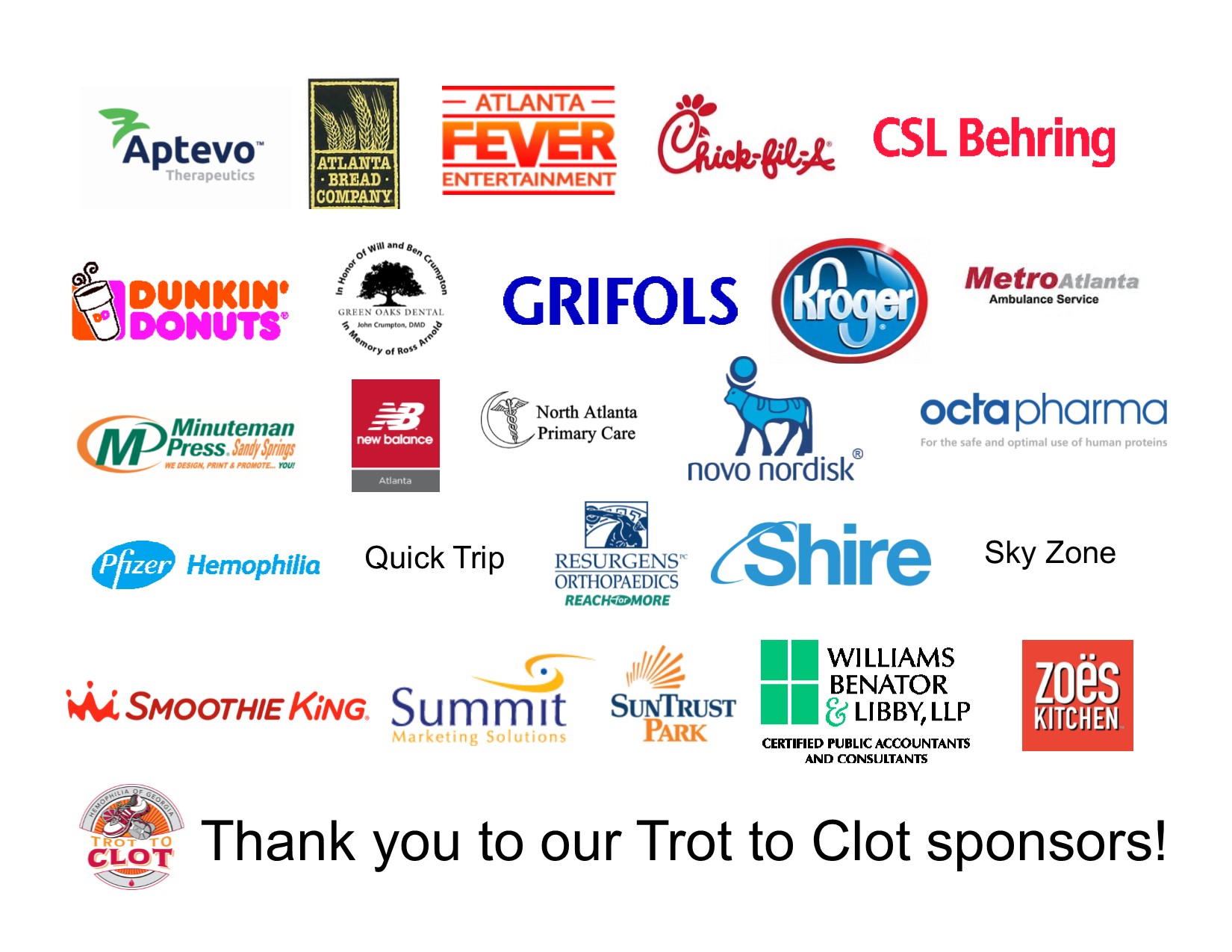 About Camp Wannaklot
Volunteer
Volunteers are always needed to help make Trot to Clot a success. As a volunteer, you will assist with event set-up, registration, and other duties.
Volunteer opportunities will begin at 6:30 a.m. and run until approximately 10:00 a.m.
For information about volunteering, please contact Paula Fine, Community Engagement Coordinator, prfine@hog.org or 770-518-8272.