Hit 'Em for Hemophilia Golf Tournament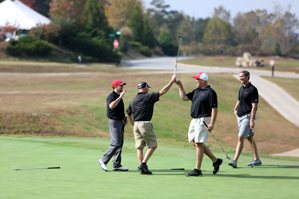 The Hit 'Em for Hemophilia Golf Tournament, sponsored by Hemophilia of Georgia in partnership with the Atlanta Braves, is recognized as one of the premier charity golfing events in the United States. Since 1982 the annual tournament has raised more than $12 million to find a cure for inherited bleeding disorders. Over the years, treatment has improved but there is still no cure.
During the tournament, more than 200 players and guests enjoy a full day of golf followed by an awards reception, and silent and live auctions. Corporate sponsors at the Platinum, Gold, and Silver levels are paired with sports celebrities from the Atlanta Braves and other professional sports organizations. Individual golfers and foursomes are also invited to participate in the tournament. Local Atlanta restaurants feature samples of their signature or new dishes for golfers to taste as they make their way around the courses. The awards reception includes silent and live auctions with exclusive Atlanta Braves memorabilia and specialty sports, music, art, jewelry, and travel auction items.
Thank you to the 2015 Hit 'Em for Hemophilia Golf Tournament corporate sponsors.
For questions regarding the tournament, please contact Heidie Nesset at 770-518-8272 or hlnesset@hog.org.