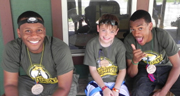 HoG needs volunteers for camp and special events. Can you help?
READ MORE
The VWD & Platelet Disorders Handbook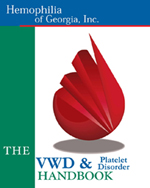 The content of the The VWD and Platelet Disorder Handbook is now included in The Hemophilia, von Willebrand Disease and Platelet Disorders Handbook, a free online resource for everyone in the bleeding disorder community.
A limited number of the printed version of The VWD and Platelet Disorder Handbook are still available.
The VWD and Platelet Disorder Handbook provides up-to-date information on:
Understanding how blood works
Testing for VWD and platelet disorders
Treating and preventing bleeding
The comprehensive care system
Bleeding disorder resources
Genetics
Disease subtypes
Feelings and reactions
Paying for health care
It is estimated that as many as one in every hundred people has von Willebrand Disease, making it the most common bleeding disorder. In contrast, the platelet disorders covered in the new handbook, Bernard-Soulier Syndrome, Glanzmann's Thrombasthenia, and Platelet Storage Pool Disorders, are among the rarest genetic conditions.
A copy of The VWD & Platelet Disorder Handbook are provided by HoG outreach nurses to each household in Georgia affected by VWD or one of the platelet disorders covered in the book.
Copies are also available to donors who make a contribution to Hemophilia of Georgia. Special discounted donation rates are available for individuals who have bleeding disorders as well as for HTC staff, non-profit hemophilia chapter staff, and medical providers. Learn more about handbook donations.