Hit 'Em for Hemophilia Charity Golf Tournament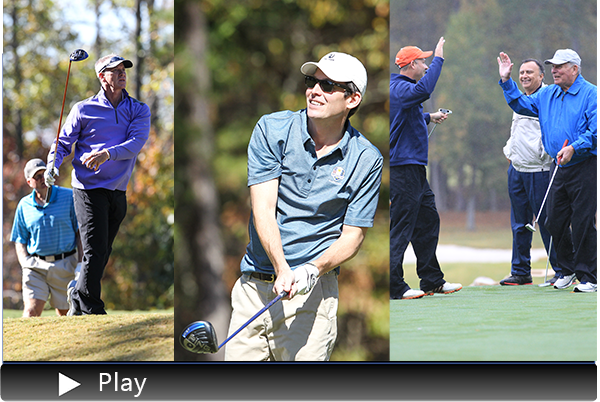 Hit 'Em for Hemophilia: Tee Up for a Cure
Join us for the 40th annual Hit 'Em for Hemophilia Golf Tournament on Tuesday, November 1, 2022 from 8:00 AM - 6:00 PM. It is sure to be an event to remember.
The event has garnered support from corporate, individual, and celebrity donors, raising millions of dollars. Net proceeds from the event fund bleeding disorder research for a cure. Ongoing research has significantly improved treatments and brings us closer to a cure every day.
At last year's tournament, with the support of our partnership with the Atlanta Braves, Hemophilia of Georgia raised more than $148,000 to benefit bleeding disorder research for a cure.
Playing with The Atlanta Braves
As part of HoG's partnership with the Atlanta Braves, golfers at the tournament can network with many of our sponsors and sports celebrities. Past notable players include Andruw Jones, Brian McCann, Brian Snitker, and Bobby Cox. The support from the Atlanta Braves has been an integral aspect of the tournament and helps us spread awareness about inherited bleeding disorders.
Event Details
8:00 AM - Guest arrival begins
8:00 - 10:00 AM - Breakfast and coffee available
8:00 - 10:00 AM - Registration and silent auction opens
10:20 AM - Event announcements
10:30 AM - Shotgun start
11:30 AM - Lunch
2:30 - 3:00 PM - Casual reception which includes the silent and live auctions
6:00 PM - Event concludes
7:00 PM - Club closes
Corporate Support
Corporate giving provides vital funding for research and offers an opportunity for corporations to be involved with a community in need. Until we can find a cure, inherited bleeding disorders require a lifetime of costly treatments. Your sponsorship dollars will fund research that helps those with inherited bleeding disorders live fuller and more productive lives.
If you have additional questions about corporate sponsorship, please contact Vic McCarty, Chief Development Officer, at 770-518-8272 or sponsorship@hog.org.
Thank you to our in-kind sponsors: Let's Roam
Thank you to our 2021 Sponsors!