Employee Spotlight on Samantha Carter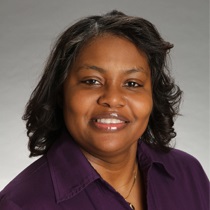 This month's employee spotlight is on Samantha Carter. Samantha has been with Hemophilia of Georgia (HoG) since 2012 and has served in several capacities. She began working as the receptionist and was promoted to program department assistant. Two years ago, she accepted a new challenge as program services coordinator, where she keeps up with client activities.
Samantha originally hails from Indianapolis, Indiana, and migrated south to Georgia in 1988. She lives in Douglasville and is married to Eric (Sr.). They have two grown sons, Eric (Jr.), 27 years old, and D'artagnan, 24 years old. Her first son was named for her husband and her second son was named for a Musketeer! Both boys work at Sprouts and Target and I think we can guess where mom likes to shop. Her son Eric is studying physical therapy. When Samantha's not working at HoG, she likes to bake and do needlework. She crochets, knits, and cross-stitches. She comes from a long line of bakers and their family recipes are top secret.
Samantha enjoys living in the South because of the Southern hospitality. She thinks the
people are friendly, and she prefers the milder winters. Her favorite thing about HoG
is meeting the clients at family camp and at other client events. She works with their
data every day, but enjoys putting a face with a name, which brings them to life for her.