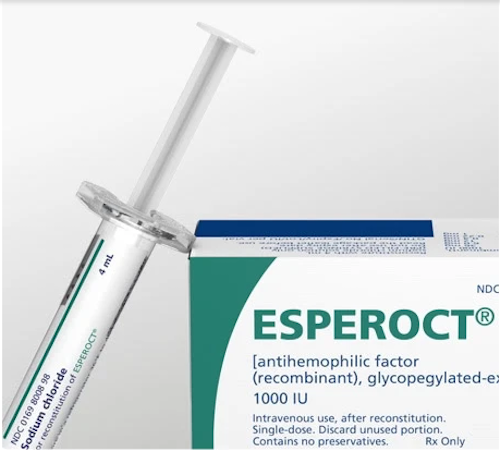 ESPEROCT Now Available!
Novo Nordisk has made ESPEROCT available in the United States. The drug treats adults and children with hemophilia A. It is a recombinant extended half-life factor VIII replacement therapy. It may be used to:
Avoid or reduce the number of bleeds
Treat a bleed
Manage bleeding during surgery
ESPEROCT is available in single-dose vials of 500, 1000, 1500, 2000, and 3000 IU per vial. All vial sizes are reconstituted to 4mls. Each vial comes with a needleless vial adaptor for mixing.
ESPEROCT can be refrigerated (between 36- and 46-degrees Fahrenheit) for up to 30 months until the expiration date. It may also be stored at room temperature (not above 86 degrees Fahrenheit) for up to 12 months or at temperatures up to 104 degrees Fahrenheit for no longer than 3 months.
If you store at room temperature, note the date when the product was removed from the refrigerator. Do not return the product to the refrigerator. The reconstituted ESPEROCT should be used immediately, or within 4 hours when stored at or below 86 degrees Fahrenheit or within 24 hours when stored in a refrigerator at 36 to 46 degrees Fahrenheit.
Prophylaxis dosing recommendations for adults are 50 units/kg every 4 days and 65 units/kg twice weekly for children under 12 years old. The treatment plan can be adjusted based on bleeding episodes. On-demand treatment is recommended at 40 units/kg for minor and moderate bleeds in adolescents and adults and 50 units/kg for major bleeds. In children under 12 years old, on-demand dosing is recommended at 65 units/kg for minor/moderate/major bleeds.
If you are interested in trying ESPEROCT, please contact your Hemophilia Treatment Center.