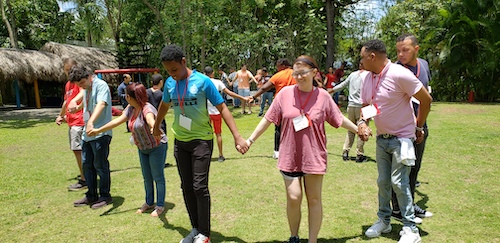 Generation of Heroes: Youth Twinning Project in the Dominican Republic
This past May, four members of Generation of Heroes – Louis, Ashley, Bryce and Elizabeth – and two HoG staff members traveled to the Dominican Republic for the first official youth training as part of the joint youth twinning project. HoG and Fundación Apoyo Al Hemofilico (FAHEM) were granted the project after youth from both organizations completed an initial assessment visit, application and grant request.
A youth group twinning pairs emerging and established youth groups to share knowledge in areas such as youth leadership, good governance activities, effective communication and public speaking to help foster the next generation of leaders in the inherited bleeding disorders community.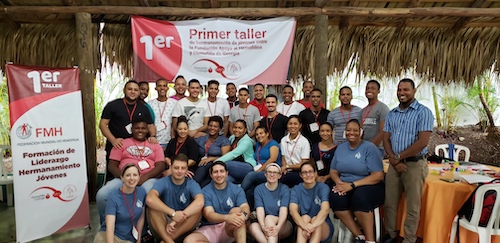 The trip, held on Mother's Day weekend, consisted of several training workshops with the emerging youth leaders from FAHEM. Around 25 youth leaders came from all over the Dominican Republic eager to work with HoG's youth leaders. The training was held in Villas Matata, the camp facility where FAHEM holds its summer camp.
The program started with each group getting to know one another through an ice breaker game. Then FAHEM youth learned about leadership, empowerment and discovering their own leadership styles – and that was just the first four hours! After a traditional Dominican lunch, the training resumed, focusing this time on organizational structures and roles. The first day ended with more amazing Dominican food and an evening of cultural exchanges. The Dominican team taught the HoG group how to dance merengue and, in return, the Georgia group serenaded everyone with a rendition of Chicken Fried by the Zac Brown Band.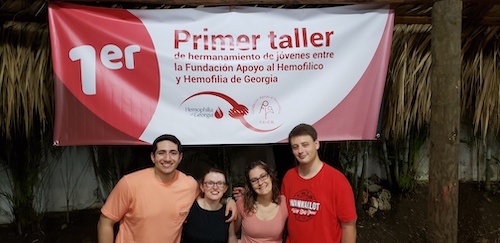 The second day began with Louis leading both groups through some stretching exercises and then Louis was joined by Ashley, Bryce and Elizabeth to lead bilingual training on volunteer recruitment and defining roles on a youth board. The Georgia team also led a panel interview and shared stories of starting a junior board, volunteering at camp and implementing fundraisers.
Ashley, one of HoG's original junior board members, shared with the group, "I love helping young adults my age start an organization and become youth leaders to make a difference. I helped start the junior board at HoG, and now I get to help you start your youth leadership group."
The last workshop of the day was on social media and communication for a youth group. After learning about how to be a leader and working together, inaugural elections were held for FAHEM's youth leadership board.
Now that the Dominican Republic youth group is officially established and they have an inaugural youth leadership team in place, the Georgia team is looking forward to continuing the youth twinning project with FAHEM and helping them grow.
The weekend was packed with training and youth leadership skill development opportunities. The adult advisors, HoG's Kim Williams and Deniece Chevannes, helped create a training weekend focused on developing emerging youth leaders, having fun, and giving an opportunity to share and learn.
"I am so grateful to participate and lead this twinning project for HoG," said Elizabeth. "I've grown so much by being in Generation of Heroes. I am thankful to get opportunities to share what I've learned with others and help grow the next generation of leaders not only in Georgia but also in the Dominican Republic. Participating in this project has opened my eyes to the world of hemophilia. The purpose of this project is not only for FAHEM to learn from us but also for us to learn from them. I've learned the value and strength of community no matter what circumstances you are in. I'm excited to continue to learn from FAHEM and to develop their youth leaders."