Got Game? HoG Youth Leaders Do
Horizons in Hemophilia, August 2010
By Shannon Veronesi, Health Educator

The LITs with Hemo the HoG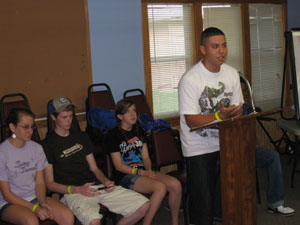 LITs presenting insurance information
The Hemophilia of Georgia youth leadership group known as the Generation of Heroes put the full court press on hot topics facing our nation. Over the summer a handful of our young people put together a game plan to help other young adults understand the Affordable Care Act.
Every year teens are selected to participate in HoG's leadership activities. The first goal is to become part of the starting line-up at the Georgia Teen Institute (GTI) that is held through our collaborative partner, GUIDE. This was our 4th year to attend GTI, and we had quite the showing. GTI is structured to provide youth the opportunity to learn about their strengths, meet new people, and devise ways to give back to their community. This year our group decided to focus on the new health insurance law and how it will affect them and the bleeding disorder community. This was a huge topic to cover, but this group had no fear. In fact, they won the "They Don't Know Obstacles, They Just Overcome" award during the GTI awards ceremony.
The second goal includes putting what we discussed at GTI into action during camp week. A few more teens were recruited to help out during the Leaders in Training (LIT) program at Camp Wannaklot. For three nights, the LIT group worked on a skit and created a Jeopardy!® game that explained the new health insurance reform laws. Later in the week, the LIT group presented the skit and Jeopardy!® game for three different cabin groups. It was a huge win for the LIT group!
Our community should give a standing ovation for the hard work that the youth leadership group has accomplished over the last few months. HoG is so very proud of this group and cannot wait to see what the future brings for the Generation of Heroes!