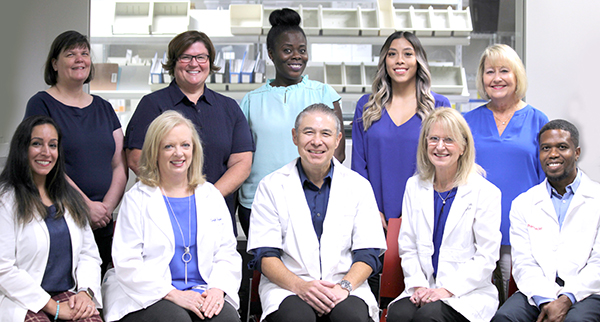 Hemophilia of Georgia Announces Expansion of Pharmacy Team to Enhance Personalized, Comprehensive Care Services
October 17-23 is National Pharmacy Week and Hemophilia of Georgia (HoG), an internationally recognized leader in the nonprofit world, renowned for its comprehensive care, programs, and services for people affected with inherited bleeding disorders, is excited to announce its newly expanded pharmacy team created to provide the highest level of personalized care, specifically tailored to meet the needs of people with hemophilia and other inherited bleeding disorders.
HoG is dedicated to enhancing the health and wellness of people impacted by bleeding disorders throughout the State of Georgia by providing comprehensive health care, education, advocacy, and the support of research.
Recently, Hemophilia of Georgia added two MTM (Medication Therapy Management) pharmacists to its clinical care team, which has been growing over the last two years to better meet the needs of clients. The newly expanded HoG pharmacy team now includes a total of five pharmacy technicians, two dispensing pharmacists, two MTM pharmacists, and the Vice President of Pharmacy Operations, Leigh Carpenter. As a result, clients of HoG and Beacon pharmacies are now experiencing an increased quality of care through a multi-disciplinary team, consisting of Medication Therapy Management (MTM) Pharmacists plus other members of the clinical care team. The MTM pharmacist collaborates with nurses, social workers, prescribers, and other healthcare providers to help clients manage their medications, providing clients the highest quality of care possible to improve their health outcomes.
"We are excited that we are continually growing, expanding, enhancing, and adapting our services to meet the needs of our clients. Increasing our pharmacy staff will enable us to provide more personalized service through one-on-one consultations and assessments prior to starting treatment and periodic updates and evaluations every six months. Our Clinical Care Team's multidisciplinary approach streamlines the process for new client intake, treatment plans, and hospital discharge planning. The team is also a direct source of contact for the medical teams we support at our Hemophilia Treatment Centers (HTCs) across the state. At HoG, we know it takes more than just medicine to care for our clients and keep them healthy," stated Leigh Carpenter, RPh, Vice President of Pharmacy Operations.
The Hemophilia of Georgia Pharmacy Team includes (left to right): Front Row: Resham Sahijram, Leigh Carpenter, Lawrence Peji, Terry Clayton, Tolulope Aiyetiwa Back Row: Jenny Truesdale, Luanne Fulk, Jenny Francois, Areli Quiroz, and Jennie Williams.