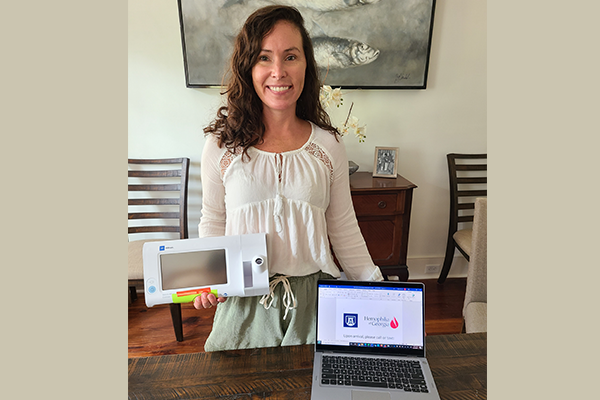 Hemophilia of Georgia Launches New Telehealth Program and Names Nikki Duncan Director
Hemophilia of Georgia (HoG) is proud and excited to announce that Nikki Duncan, RN, BSN, CPN and Nurse Educator has been promoted to a new role as HoG's Director of Telehealth for our new Comprehensive Care Model Telehealth Program that was launched on March 26, 2021, with our first site in Savannah, Georgia!  Nikki has done amazing work establishing the new telehealth site that will provide high-quality, comprehensive care and clinical services to the bleeding disorder community. Even before the pandemic, Hemophilia of Georgia was researching the most innovative ways to move forward into the telehealth space, but the pandemic escalated the need to establish and put this program into practice.
HoG recognizes that some patients struggle with their (HTC) Hemophilia Treatment Center appointments due to their individual life circumstances (for example: jobs, health issues, travel, children, parents, and cost).  While Hemophilia of Georgia already has many wonderful programs to assist in these areas, as an internationally recognized provider of outstanding programs and services, HoG continually seeks ways to better serve our clients. One of our most important goals is to ensure access to high-quality, comprehensive healthcare for all our clients, so they can live as normally and productively as possible. However, we understand that it is not always feasible for a client to make the trip to their chosen treatment center. Thus, the idea for HoG's Telehealth Program was born and is strongly supported by both the Hemophilia of Georgia Board of Directors and our very first partner HTC, Augusta Adult HTC, who have been amazing throughout this process and dedicated to its success.
Yet the fact remains, HoG's network of providers in the five HTCs servicing Georgia provide the best and most comprehensive care, clinical services, and guidance to the bleeding disorder community. This is accomplished through research, education, advocacy, and creating life-long trusting and caring relationships. Therefore, the goal became providing the high-quality, comprehensive care of an HTC in a virtual, telehealth setting…a very tall order!
Nikki and a team of collaborators that included HoG's Vice President of Programs Robert Gillespie, Senior Director of Clinical Services Michelle Lowe, Director of Nursing Stephanie Matz, and Social Worker Jacob Sobel, began the process by exploring with each of our partner Hemophilia Treatment Centers (HTCs) what the needs were and the best and most effective ways to move forward with implementing a telehealth program. The team sat down and talked through multiple scenarios. They strategized on how to create a program that optimizes a beneficial impact for HoG clients and will continue to grow. They evaluated different models for the telehealth program such as in-home telehealth and stand-alone comprehensive care centers in strategic locations to serve our clients. 
Next, they spoke with information technology (IT) departments at several hospital systems and piloted a variety of equipment options that connected to existing technology the HTCs had in place. Nikki spent considerable time researching other telehealth facilities in the United States as well as partner HTCs to see what equipment they were using. They learned that the majority of treatment centers were already exploring or utilizing some form of telehealth platform. One of the goals of the HoG team in creating the telehealth program is to allow for all the HTCs to utilize the program to reach clients throughout the state. Since all the facilities had begun a process to implement telehealth within the hospital entity, we had to find a program and/or equipment to allow us to provide the access to all the HTCs.  Throughout the conversations with the treatment centers, the HoG team discovered that Augusta University Director of Clinical Services, Leigh Wells, had been researching a way to create and implement the Comprehensive Care Model Telehealth Clinic. Leigh and Nikki spent countless hours on the phone, testing equipment and telehealth platforms, and creating ideal standard operating procedures. Pilot in-home telehealth appointments were also held and proved to be a success.
The team was also busy creating heat maps of the state of Georgia to show where the greatest need was and where Hemophilia of Georgia clients predominately reside. They found a large population within the Savannah area did not utilize the high-quality, comprehensive care and clinical services available from the HTCs after transitioning to adult care, mostly due to the time and challenges of commuting to the HTC in either Augusta or Atlanta.  After many months of research, phone calls, emails, negotiations, and legal consultations, the telehealth team at Hemophilia of Georgia was finally successful in securing a location in Savannah to host a Comprehensive Telehealth Clinic. Even better, the location was in the same building as the Savannah Pediatric HTC!  The clinic was a great success, and they gained valuable insight from the experience. This enabled the team at Hemophilia of Georgia to create standard operating procedures for the new telehealth program. It also resulted in their hosting a Comprehensive Telehealth Clinic in March 2021, the first of its kind in conjunction with Augusta University Adult HTC and the help of the Savannah HTC Pediatric Team. The test clinic was also a wonderful success! The telehealth team was able to give the very best, comprehensive care to the patients that is regularly provided by our five partner HTCs!
HoG's Telehealth Team has learned a lot, changed the standard operating procedures often, and are honing in on how to make this process work the best for our clients in the bleeding disorder community. When asked what the best part of this challenging journey has been on the road to implementation of the program, HoG's Telehealth Director stated, "I am a nurse, first and foremost, so the best part of this journey has been helping clients that have had difficulties accessing quality, comprehensive care due to whatever circumstance has led them there.  I have met some wonderful clients, listened to their heartfelt experiences, and seen their challenges in living with a bleeding disorder first-hand.  I admire them so much for their difficult journey. The process of creating and launching HoG's Telehealth Program for the bleeding disorder community has been incredibly rewarding. It makes me feel so good knowing we are helping clients overcome obstacles to care as they struggle to fight their valiant battles. The additional bonus has been getting to know members of the Hemophilia Treatment Center teams I had not worked with previously and collaborating with them on this project. The relationships we have created together have made this possible and I look forward to seeing what we do next!"