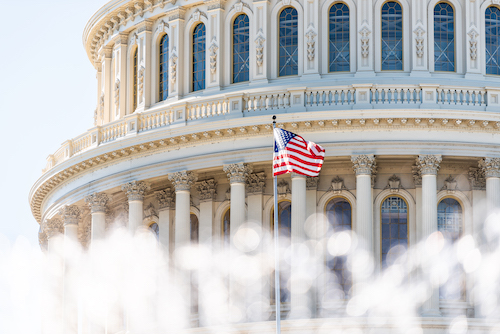 HoG Continues to Push Congress to Fix Funding Issue for Skilled Nursing Facilities
For the third time this year, representatives from Hemophilia of Georgia (HoG) were in Washington, D.C., seeking support from Georgia's congressional delegation to make a change in Medicare that would improve treatment for people with hemophilia. Specifically, we are asking to change the way skilled nursing facilities (SNFs) are paid when a person on Medicare needs an expensive bleeding disorder medication. The solution requires action from Congress, and we're working with the National Hemophilia Foundation and the Hemophilia Alliance to generate support for a bill on Capitol Hill. In July, Edith Rosato, HoG CEO, and Stephanie Raymond, executive director of Cascade Hemophilia Consortium (Michigan), visited key House and Senate members to seek their help.
SNFs provide short-term, inpatient rehab services such as those needed after surgery or an injury. Treatment at a SNF is far less expensive than keeping someone in a hospital. Medicare pays SNFs a flat rate for each day. This amount is enough for most patients but doesn't come close to covering the cost of medicine for someone with hemophilia. Because they can't bill Medicare for hemophilia medications, SNFs often won't admit a patient who uses the drugs. The patient must either remain in the hospital or go home without optimum follow-up care. While the number of people with bleeding disorders on Medicare is very small (only about 1,000 people nationwide), this issue is very disruptive for affected families.
This problem has directly affected individuals in Georgia. In a recent case, there was a man in his 70s who lives alone. He was admitted to Emory Hospital and diagnosed with an acquired inhibitor to Factor VIII. He needed to go to a SNF to learn to use his walker and receive follow-up care, but no facility would take him because of his use of a factor product. He remained an inpatient at Emory longer than necessary and then required nurses to come to his home. He didn't receive the level of care he would have gotten at a SNF and had higher medical costs only because of the Medicare problem.
The National Hemophilia Foundation and the Hemophilia Alliance have been working on legislation that would add bleeding disorder treatments to the list of Medicare services that can be billed separately by SNFs. Current law allows SNFs to bill Medicare for a few very expensive, infrequent services (chemotherapy, radioisotopes and certain prosthetic devices). We want to add clotting factor and other bleeding disorder treatments to this list. The HoG / Cascade team is focused on securing the support of two key members of Congress, Rep. Debbie Dingell and Sen. Johnny Isakson, and our progress so far looks promising.