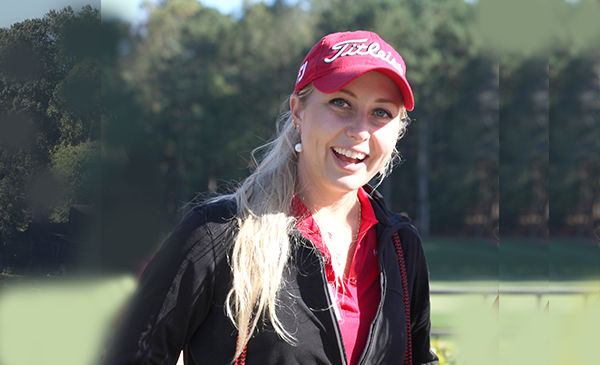 Inspirations and Life Lessons from a Golf Pro, Scholar, Volunteer, and Hemophilia Carrier!
Growing up as a carrier for hemophilia A in a rural area of Georgia, no one would have known Lauren Lightfritz would become the academic scholar and talented golf pro that she has become today. Lauren grew up living with a father who had hemophilia A and it impacted her in many ways.
"It is something that was always in the back of my mind growing up and it made me pray for my father, especially any time I saw him go into surgery or bruise badly," said Lauren. She continued, "I would say one of the biggest ways this has impacted me is in thinking about my future and the future of any children, if I ever have them. I think about how getting the gene would impact their lives and their future. It is a constant worry that lingers. However, being a part of the Hemophilia of Georgia (HoG) family helps to ease that worry. HoG has always been there for me and my family. In addition, as a carrier, I am at risk for bleeding from surgical procedures and must be treated prior to surgeries, just as if I had hemophilia. This can be a bit scary."
In fact, Lauren recently had oral surgery and had to be treated with infusions prior to the procedure. This gave her a whole new perspective into the world of living with hemophilia, the hardships endured, and the impact on the lives of people needing to regularly receive life-saving infusions of clotting medication. That experience, combined with seeing how badly her dad can bruise or bleed internally, truly impacted her emotionally.
However, these experiences have also taught Lauren many life lessons. "The first, is to be thankful for each day we are given. Not everything is guaranteed. I am truly grateful that we have such a wonderful and supportive organization like Hemophilia of Georgia. I am particularly grateful for their professional staff, particularly my nurse, Penny Kumpf. I have known her for a very long time because she is also my dad's nurse. Penny has always been so kind to us and always open to teaching us more about the realities of living with hemophilia and its impact on the family. She has also always helped me personally by teaching me about being a carrier and the potential impact on my future."
Lauren continued, "During my recent surgery, nurse Penny was very supportive, expressed genuine care, and provided guidance that made the whole process less stressful for me. I had not ever had infusions before, but she made me feel calm during something that was very new to me. In the past, she has always educated my dad and I. Teaching us more about hemophilia is the best way we can be prepared in the future. "
Lauren says she feels blessed that she and her father can live good lives and are well taken care of. "My dad may have hemophilia and I may carry the gene, but I just feel blessed that we are alive and healthy in many other ways. That is what we focus on." Another focus of Lauren's is completing her educational studies and her passion for golf. Lauren is a grateful recipient of the John Youtsey Memorial Scholarship, which is helping her with her current graduate school expenses at Mercer, where she currently enjoys a 4.0 GPA! Lauren is pursuing a master's degree in Organizational Leadership with a concentration in Development and Change, after graduating with Magna Cum Laude honors from Mercer in May 2020 with a BA in Marketing and a minor in Human Resource Management.
This talented young woman also played D1 Collegiate golf at Mercer University for 5 years and was named a recipient of the WGCA's All-American Scholar Team five times in a row, along with a very long and impressive list of accolades. Lauren began playing golf at the age of seven when her dad introduced her to the game and began playing competitively at age 11. She received a full-ride scholarship to play at Mercer University. This past August, she declared herself as a pro, but is currently also focusing on finishing her master's degree.
One of the other important life lessons this young golf pro has learned is the importance of giving back to the community. This is one of the reasons she volunteers for Hemophilia of Georgia. In October, she volunteered at the 2021 Hit 'em for Hemophilia Golf Tournament. "I thought it would be a perfect way for me to give back since I play golf, stated Lauren. "It is such a fun event to volunteer for and seeing so many people come out to support Hemophilia of Georgia made me happy! I was honored to be a part of it and plan to be for many years to come."
Hemophilia of Georgia is excited and honored to have Lauren as a volunteer. We think she has an amazing future ahead and will be "swinging into action" in many areas of her life!