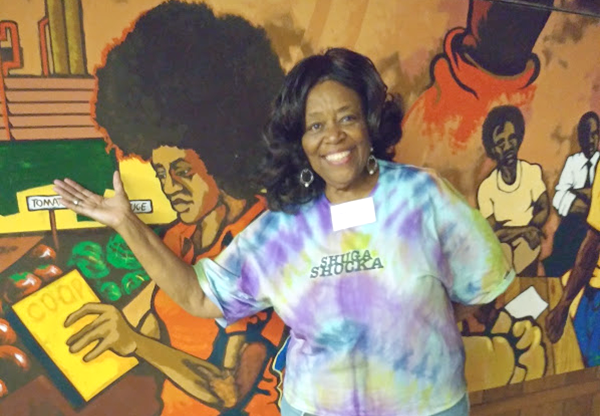 Lessons on Living, Giving and Gratitude from Community Leader Ms. Shirley
Even during a pandemic, Shirley C., a 75-year-old member of the bleeding disorder community, a former nurse, a minister, and a leader in her community, still has lofty goals and strives to educate and empower those impacted with bleeding disorders not just to survive, but thrive! Although not diagnosed until after the birth of her second child in her 40s, "Ms. Shirley" as she is affectionately known by so many in the community, was born with von Willebrand Disease, a bleeding disorder she inherited from her father who died from a severe hemorrhage. She found him lying by his truck and brought him to the hospital, not knowing what was wrong or that he had von Willebrand Disease, until after he died. This painful experience impacted her greatly. With only a third-grade education, he was a very smart, self-taught, kind, and uplifting man who always had the right words and answers to her many questions. He was her hero. Shirley believes she got her positive spirit from him and she loves giving back to the community; this is evident in everything she does.
Now an elder in the community herself, Shirley was one of the people who helped grow and build the small farming community in which she lives. When Shirley was younger, "the land was just mostly a swamp, but the community worked together to change that and now, it is a thriving farming community. It is my goal to pass on what I know about successfully growing vegetables and healthy nutrition to the younger generation of people, so they can learn and take over. They need to know how important it is for them to take care of their bodies and keep their immune systems strong in order to survive life's storms. This is particularly important for those who are born with bleeding disorders such as hemophilia and von Willebrand Disease," Shirley stated.
As a former nurse, school teacher, and nurse educator, Ms. Shirley is deeply committed to educating our youth about the importance of good nutrition. Ms. Shirley loves to spend time in her garden, where she grows fresh vegetables such as broccoli, cucumbers, kale, collard greens, eggplant, and squash. She says gardening is her therapy, as is "doing good" in her community. Shirley likes to stay busy and has so much she wants to share with the youth of today. Her best advice for living a good and meaningful life: "Stay busy, help others and be grateful. These are the key to keeping a positive outlook. Besides, if you stay busy, you do not have time to think about your own problems. I have helped a lot of people through hard times and they know my door is always open."
These days, even during the pandemic, Shirley stays busy virtually, reaching out and making phone calls to help those in need in the community. Nothing is going to keep her from those in need; for her, it is a calling. She is also grateful to those who have been there for her. Her family (two daughters, five grandchildren, and eight great-grandchildren), friends, and especially, Christi Humphrey, her social worker at Hemophilia of Georgia, who has been helping Shirley and her family since the 1980s.
"Christi is like an extended member of her family. She is a great person and an incredible comfort to me and my family. Christi has done so much for me to help me and knows everyone in my family. She has watched them grow up. During the pandemic, she helped me to arrange for an appointment to get three of my teeth extracted; it was difficult because no one wanted to do it. As always, she worked hard and managed to get it done. We are blessed to have her in our lives."
Christi Humphrey says, "Ms. Shirley is a role model and a wonderful example of what people with bleeding disorders are capable of. She understands the importance of getting comprehensive care and knows that while the medicine is critically important, the impact of treating all aspects (social, emotional, nutrition, and medical) is significant and leads to better outcomes. As we like to say at Hemophilia of Georgia, it takes more than medicine."
At 75, Ms. Shirley still has lofty goals. She is working on developing a produce market and is planning on having classes to teach kids how to eat healthily and grow their own food. She would also like to write her life story! So, for all you aspiring authors and filmmakers, Ms. Shirley is one of Georgia's absolute, joyful treasures. Her amazing story of perseverance, giving and gratitude is still unfolding, waiting to be written, and her legacy needs to be established for history!