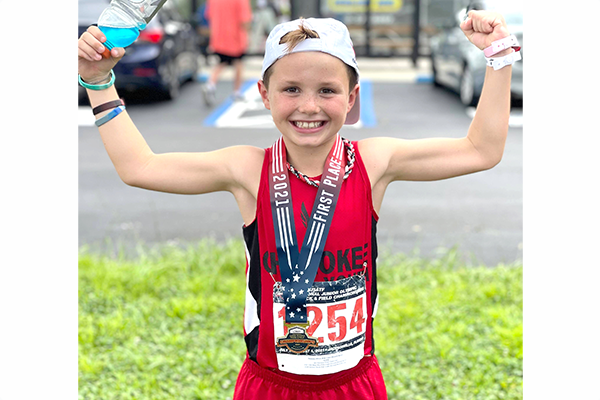 Overcoming Obstacles to Take Home the Gold
The entire Hemophilia of Georgia family is proud to congratulate Oliver D., who took home first place honors on July 27, 2021, at the USATF Junior Olympics in the javelin competition for his age group (8 and up). This national track and field event took place in Jacksonville, Florida. Everyone at Hemophilia of Georgia is incredibly proud of Oliver for his accomplishments. Prior to this competition, Oliver was ranked #1 in the nation for the javelin and #1 in the State of Georgia in the 1500M for his age group.
Oliver has already accomplished so much at his young age in track and field and interestingly, he began competitive athletics at the age of six, playing baseball. He is very self-motivated and driven to excel, despite dealing with the challenges of having hemophilia.
Oliver's father, Brian said, "Oliver's commitment to his athletic achievements has not waivered one little bit since he began playing competitive baseball right after his sixth birthday. He was able to combine baseball practice with private lessons and cross-country practice in the fall of 2019. He would change outfits in the car to go from one practice to the other, and even on weekends he would run events and then play 3-5 baseball games.  Oliver has never slowed down because of his hemophilia diagnosis. He gives 100% to everything he does. As parents, we are very proud of his determination and work ethic. On top of everything else, he has never let his academics slip, gaining entry to the gifted and talented program at Liberty Elementary this past school year. The pride we feel watching him accomplish so much and overcoming challenges is immeasurable and our hearts are filled with so much joy!"
Oliver's mother, Kristie stated, "While we have so much to be proud of, the challenges that we face balancing Oliver's bleeding disorder can be tough and hard for him to comprehend.  We have seen sadness in his eyes when we tell him he can't play football, but we also see that it seems to burn the fire even brighter inside him when he competes at other sports. We also must keep a close eye on him. Our greatest concerns are: watching for hard slides, any fall, and hard-hit baseballs. Sometimes we hold our breath and worry if he has enough factor in his veins.  It can also be tough educating everyone who surrounds him, not that they won't understand, but we don't want a label put on Oliver. We don't want him to be singled-out or made to feel like he is treated differently.  It is a very tough balancing act, because our son is competing at a high level and you don't want anything hold him back from living his dream and his best life." 
While living his dream, Oliver is not one to hold back in both giving his very best effort for his competitions or in expressing his joy at winning the gold! Oliver's facial expressions clearly show it all. He seems to know as soon as he has finished a race or throwing the javelin when he has won. Even prior to the Junior Olympics in Jacksonville, Oliver smiled from ear to ear right after his first place 800M finish in a competition held in McDonough and an even bigger, glowing smile in Rome when he broke his own record. However, his reaction after he competed in the Junior Olympics in Jacksonville was very different. In fact, he had no idea he won.
Oliver's father, Brian, explained, "We were separated from him farther away and longer than we had before. We could see him, but he didn't know where we were. The participant roster was much larger on the national stage of the Junior Olympics and the heat was brutal. He sat on that field in the heat for hours. He threw his javelin six times and knew it wasn't his best. However, we couldn't tell if he knew he still had one amazing throw, 1 foot shorter than his best!  Thirty-six more athletes had their turn to throw and then the top eight threw three times each. When it was finally done, we knew he had won gold, but didn't know if Oliver knew.  When we met him off the field with his coach, tears of disappointment were in his eyes; he thought he did not do well.  He was tired and sweating. Two and a half hours had passed since we dropped him off for the event." 
Oliver said, "Dad, I don't think I won. I am thirsty and need the restroom."  His father, Brian, looked at him and excitedly said, "Son, you won the gold!"  The surprised young athlete said joyfully, "Really dad?"…and a big, glorious smile began to shine upon Oliver's face, just as he saw his mom and grandfather, who were ready and waiting for congratulatory hugs!
Oliver, you are a winner in our eyes!