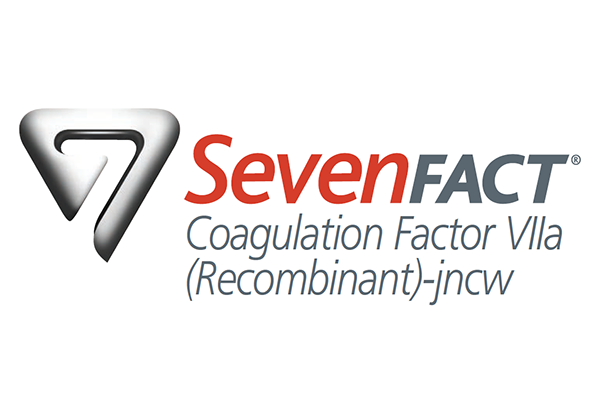 Sevenfact Available Now!
In April 2020, HEMA Biologics announced the FDA approval of Sevenfact for people with inhibitors to hemophilia A and B. It is now available on the market for adults and adolescents 12 years and older. It is the first new bypassing agent in over 20 years approved for the treatment and control of bleeding episodes in people with hemophilia A and B with inhibitors. Sevenfact is a recombinant coagulation factor VIIa concentrate. The approval was based on data from the phase 3 trial, PERSEPT 1. The clinical trial evaluated 468 mild, moderate, and severe bleeding episodes in 27 people with inhibitors.
Sevenfact is available as a lyophilized powder in single-use vials containing 1 or 5 mg of recombinant coagulation factor VIIa. Each dosage size is reconstituted with specified volumes of sterile water for injection in a pre-filled syringe that is provided, along with a vial adapter. Prior to reconstitution, the Sevenfact kit should be stored at room temperature, but can be stored between 36-86 degrees Fahrenheit, protected from light in the product package. Do not freeze. After reconstitution, Sevenfact should be stored at room temperature but can be refrigerated for up to 4 hours. Any unused dose should be discarded 4 hours after mixing. The most common adverse reactions (incidence >1%) reported in clinical trials for Sevenfact were headache, dizziness, infusion-site discomfort, infusion-site hematoma, infusion-related reaction, and fever.
HEMA Biologics is a biopharmaceutical company located in Louisville, KY. They worked through a joint venture with Laboratoire Francais du Fractionnement et Des Biotechnologies SA (LFB SA), to bring the treatment option to the U.S. LFB is a bio-pharmaceutical group that develops, manufacturers, and markets plasma derived products and recombinant proteins for the treatment of patients with serious and often rare diseases. HEMA Biologics has the distribution rights for Sevenfact in the U.S. and Canada.
If you are interested in trying Sevenfact, please contact your hemophilia treatment center.