Horizons in Hemophilia April 2010

April 2010
Brown Bag It For Care and Treatment
In honor of World Hemophilia Day, Hemophilia of Georgia invites you to participate in Brown Bag It! for Care and Treatment on Friday, April 16, 2010. Bring a brown bag lunch to work or school and donate the money you would have spent on lunch to the World Federation of Hemophilia. Even a small amount per person can truly make a difference. Read more.
FDA Approves New Drug for VWD
By Leigh Carpenter, RPh, Chief Pharmacist
Xanodyne Pharmaceuticals, Inc. has announced FDA approval for Lysteda, a tablet form of tranexamic acid that is used to treat heavy menstrual bleeding. Previously, this drug was only available in the United States as an injectible drug (Cyklokapron). This approval represents an important new non-hormonal treatment option for women suffering from heavy menstrual bleeding, a very common symptom of von Willebrand Disease. Read more.
Trot to Clot Hemophilia Walk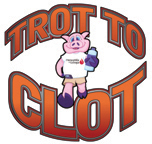 By Vic McCarty, Director of Development
Hemophilia of Georgia invites you to participate in the inaugural Trot to Clot Hemophilia Walk on Saturday June 12, 2010 at East Cobb Park in Marietta, Georgia. This fun, family-centered walk will raise money to fund programs and activities for people who have hemophilia, von Willebrand Disease, and other inherited bleeding disorders. Our goal is to raise $25,000 through the Trot to Clot Hemophilia Walk. Read more.
Want To Help Your Child Have A Memorable Summer?
By Danny Moore, RN, Outreach Nurse
Of course! All parents love to see that shining smile beaming from their child's face. A trip to Grandma's, a weekend at the beach, or the ultimate dream vacation—a week at Disney—every child dreams of summer for nine months of the year. Three months of relaxation, staying up late, sleeping in and forgetting as much as possible from the previous school year. As talented as your 12-year-old may be at sleeping until noon, it may surprise you to learn that the thing children are best at over the summer is forgetting. Many studies have been performed and papers written on the subject of summer breaks. Most of these have been done by persons advocating either for or against having a summer break. They have wildly varying results, most often mirroring the opinions of those performing the studies and writing the papers (shocker!). Read more.
Camp Wannaklot 2010
By Kim Wilson, Camp and Activities Coordinator
Hemophilia of Georgia's Camp Wannaklot is preparing for its 17th camping season. Children ages 7-17 who reside in the state of Georgia and have hemophilia or another inherited bleeding disorder are eligible to attend this week-long, co-ed residential camping program. We anticipate more than 150 campers this year and need approximately 100 volunteer counselors and medical staff for this one-week camp.
We need people like you to volunteer to live, laugh and play with the campers. Where else do you get to go horseback riding, shoot an arrow with a bow, go on a nature hike, play and splash on the paddle boats, swim every day, and bring a smile to the face of a child? Camp can't happen without you – a caring, dedicated volunteer who is willing to give so much to the campers. That is why we need you for Camp Wannaklot 2010. Read more.
Support Camp Wannaklot 2010
By Vic McCarty, Director of Development
This year's Camp Wannaklot theme is "Get in the Game!" and the programs and activities will be designed with this theme in mind. Campers will be encouraged to "Get in the Game!" by participating in camp activities, working as a team to accomplish group goals, and gaining independence by achieving personal goals, including learning to self-infuse their medication. Camp can't happen without you – a caring donor who is willing to make all of this possible. Read more.
OK Women, Let's Get Moving!
By Penny Kumpf, RN, VWD Community Outreach Nurse
Have you packed on the winter pounds? Have you been thinking about starting to walk? Do you want to help out those joints? Take the challenge along with me to help your body and your mind. Read more.
Client Dinner Photos
View photos from recent HoG client dinners.
Clinic Schedules
View the clinic schedules for the Georgia Hemophilia Treatment Centers.
Physician-to-Physician Hotline
Provide the Physician-to-Physician Hotline telephone number to doctors who have questions about treating people who have bleeding disorders.
---
Hemophilia of Georgia is not engaged in the practice of medicine and does not endorse or support any particular factor concentrate or treatment protocol. HoG recommends that you consult with your physician prior to starting any course of therapy. Occasionally HoG disseminates information on new treatments or therapies. HoG shares this for informational purposes only and makes no claim as to its accuracy or effectiveness.