Horizons in Hemophilia, March/April 2016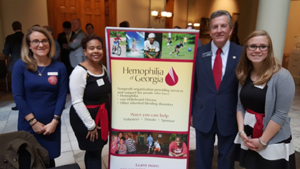 Hemophilia of Georgia Day was recently recognized at the state Capitol. Through House Resolution 1521, sponsored by representatives Rusty Kidd, Matt Dollar and Dexter Sharp, the Georgia General Assembly recognized March 7 as Hemophilia of Georgia Day.
A team of researchers from the University of North Carolina (UNC) and The Children's Hospital of Philadelphia (CHOP) recently reported the successful application of gene therapy in dogs with factor VII (FVII) deficiency. This represents a significant advance, as demonstrating the safety and efficacy of a novel therapy in large animal studies is a standard precursor to eventual clinical trials in humans.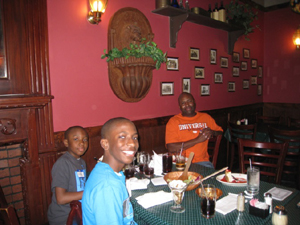 Hemophilia of Georgia hosts client dinners all over the state. These dinners are a great opportunity to meet your HoG nurse or social worker, as well as some other members of your local bleeding disorder community. These pictures are from dinners held in January, February and March. Keep an eye out for your invitation to the next dinner in your area!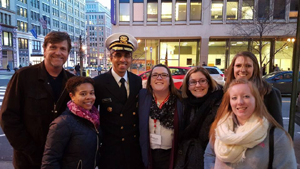 Several Hemophilia of Georgia volunteers had the opportunity to "sit at the table" with members of Congress in February as part of the National Hemophilia Foundation's Washington Days. This annual event provides an opportunity to speak directly with decision-makers and influencers on the policy issues affecting the bleeding disorder community.
Lace up your sneakers and hit the pavement —it's time Trot to Clot! Whether you're a walker, runner, stair climber or even an elliptical enthusiast, this year's Trot to Clot events have something for you.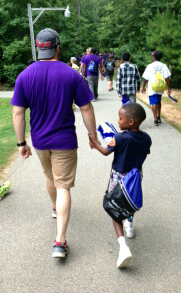 It takes more than medicine to support youth and teens with hemophilia and other inherited bleeding disorders. Sometimes it takes sing-alongs, fun activities and a chance to be with friends, mentors and unforgettable camp counselors—just like you!
Gage B. and Devin O. are the newest members of The Mighty Sticker Club. To become members, both Gage and Devin mastered the steps for self-infusion, which include mixing factor, selecting a vein, sticking themselves with the needle, giving themselves their own factor and completing a treatment calendar. Both young men demonstrated these abilities with their outreach nurse, Karen, observing them.
Results from a new study indicate that despite 50 years worth of advances in the area of comprehensive care for patients with bleeding disorders, males with hemophilia still grapple with significant health-related issues affecting their quality of life. The study, "Men with Severe Hemophilia in the United States: Birth Cohort Analysis of a Large National Database," was published online on March 16 in the journal Blood. The lead author of the article was Paul E. Monahan, M.D., of the Gene Therapy Center at the University of North Carolina. Co-investigators included professionals from the hemophilia treatment center network and the Centers for Disease Control and Prevention.
Hemophilia of Georgia hosted the 29th Annual Hemophilia State Comprehensive Care Meeting in March, providing an opportunity for HoG staff and Georgia's Hemophilia Treatment Centers to discuss new research and ways of improving care for all Georgians living with a bleeding disorder. This two-day session focused on topics ranging from research and policy updates to clinical and therapy services offered to clients, quality improvement initiatives and patient case study analysis.
CSL Behring announced March 4 that the FDA has approved IDELVION, its long-acting recombinant factor IX product. With IDELVION, the half-life of recombinant factor IX is extended through fusion with recombinant albumin.
On November 13, 2015, the FDA approved Adynovate, manufactured by Baxalta, for hemophilia A. Adynovate is a new recombinant long-acting factor VIII approved for both on-demand treatment and for routine prophylaxis in adults and adolescents aged 12 years or older. The product should last longer in the blood than regular factor VIII products because it contains full-length factor VIII molecules linked to other PEGylated molecules (polyethylene glycol). Adynovate is the only product with an extended half-life built on the same factor VIII protein as Advate.
View the clinic schedules for the Georgia Hemophilia Treatment Centers.
Have you read HoG's Blog?