Horizons in Hemophilia December 2012

Please Consider Making an End of Year Donation for Research
By Vic McCarty, Director of Development
As we approach the end of 2012, Hemophilia of Georgia invites you to consider making an end of year tax-deductible contribution to support research. HoG is currently funding two major gene therapy research projects that seek to cure hemophilia. Read more.
Update on Clinical Trials to Cure Hemophilia
By Jeff Cornett, RN MSN, Director of Training, Research, & Advocacy
This past July, Hemophilia of Georgia began funding clinical trial research at two institutions: St. Jude Children's Research Hospital in Memphis, Tennessee ($3,172,401) and the Aflac Cancer and Blood Disorders Center at Emory University, Atlanta ($2,557,979). The $5,730,380 contribution over the next three years is to expand clinical trials to cure hemophilia. Read more.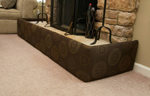 Hang your Stockings with Care:
Preventing Fireplace Injuries with a Pretty Padded Cover
By Penny Kumpf, RN, VWD Community Outreach Nurse
A fireplace can be a magnet for a head injury with a little one learning to walk. The parents of a toddler who has hemophilia were particularly concerned about his safety around their stacked stone fireplace hearth. Read more.
Hemophilia of Georgia Holiday Hours
By Karen Daniel, Marketing and Communications Director
Happy holidays from Hemophilia of Georgia! Please order your factor early to be sure you have enough for the long holiday weekends. Read more.
Plan Now to Attend a Trot to Clot Walk and Run


By Vic McCarty, Director of Development
Three Trot to Clot Walk and Run fundraising events will be held in 2013. Please plan to join us:
Saturday, April 20 in Stone Mountain
Saturday, May 4 in Augusta
Saturday, June 1 in Columbus
Trot to Clot Walk and Run events raise money for Camp Wannaklot – the only residential camp in Georgia that serves children who have hemophilia or other inherited bleeding disorders. Read more.
It's Just an Herb, Supplement, or Remedy
By Penny Kumpf, RN, Outreach Nurse
You might have heard this or thought it yourself: "what's the harm, it's just an herb." There are many medications used today that originally came from plants and are now used for cancer chemotherapy (Pacific Yew Tree; Taxol) and heart medications (Foxglove; Digoxin) among others. Like medications, herbs have side effects and may interact with something else you are using. People with bleeding disorders need to consult with their health care providers before using any vitamin, supplement, herb, remedy, drug, etc. Read more.
Preventing "Specialty Tiers" and Keeping Treatment within Reach
By Michelle Putnam, Associate Director of Research and Advocacy
The idea of health insurance is very valuable to those of us in the bleeding disorder community. Because of the cost of medication, we value insurance to help us offset some of this cost so that we can continue to live a normal life. Imagine, for a moment, that this concept was turned on its head. That instead of paying a co-pay for factor, the insurance company required that you pay anywhere from 20-35% of the cost of the medication. How would this impact your care? How would this impact your life? Read more.
CDC Recommends Flu Shots
The US Centers for Disease Control and Prevention (CDC) recommends that adults, children and babies older than 6 months get vaccinated against this year's influenza (flu) strains. Read more.
Been Missing HoG on Facebook?
If you haven't been seeing HoG's daily Facebook posts, please go to the page, put your mouse over the word "Liked" and then click Get Notifications.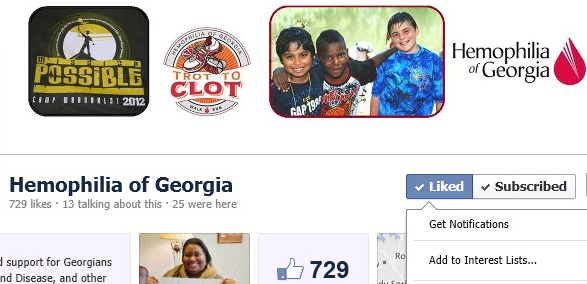 Check out The Hemophilia, von Willebrand Disease & Platelet Disorders Handbook. It's a free online resource for everyone affected by bleeding disorders.
View the clinic schedules for the Georgia Hemophilia Treatment Centers.
Have you read HoG's Blog yet?

Find us on Facebook and Twitter.
____________________________________
Hemophilia of Georgia is not engaged in the practice of medicine and does not endorse or support any particular factor concentrate or treatment protocol. HoG recommends that you consult with your physician prior to starting any course of therapy. Occasionally HoG disseminates information on new treatments or therapies. HoG shares this for informational purposes only and makes no claim as to its accuracy or effectiveness.