Horizons in Hemophilia January 2013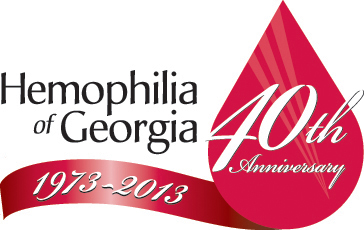 Hemophilia of Georgia Celebrates 40 Years of Service to the Bleeding Disorder Community
By Trish Dominic, CEO
When Hemophilia of Georgia was founded in 1973, there were no Hemophilia Treatment Centers in Georgia. Today, Hemophilia of Georgia provides funding to HTCs in Atlanta, Augusta, and Savannah. Through these centers, children and adults who have hemophilia or another inherited bleeding disorder receive specialized comprehensive care. Read more.
Fundraising Opportunities: $40 for 40 in 2013!
By Vic McCarty, Director of Development
Hemophilia of Georgia is proud to be celebrating its 40th anniversary in 2013! HoG is also honored to have the generous support and contributions from individuals, corporations, foundations, organizations and volunteers throughout the past 40 years. Support of HoG is critical to the funding of various programs and services offered to the bleeding disorders community of Georgia. As HoG celebrates 40 successful years in 2013, we ask that everyone consider ways in which your support today can make a difference in the lives of people affected by bleeding disorders for 40 more years! Read more.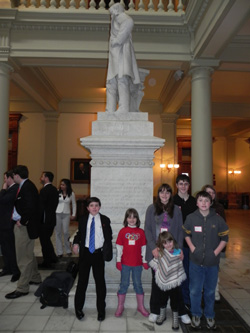 Your Day to Make A Difference
By Michelle Putnam, Associate Director of Research and Advocacy
Every year the Georgia bleeding disorder community gathers in downtown Atlanta for Hemophilia Day at the state Capitol. Each year, we talk with our representatives about what it means to live with a bleeding disorder. These topics include the challenges that come with caring for our children, paying for insurance, and ensuring that we are not defined solely by our diagnoses. This year, we will gather once again at the Capitol on Monday, February 11 to discuss access to factor for the uninsured and ways to make sure that people with bleeding disorders have access to comprehensive care. Read more.
Do You Qualify for HoG's Dental Program?
By Cathy Hulbert, LCSW, HoG Social Worker
If you ever have an opportunity to add dental coverage to your employer-sponsored health insurance, Hemophilia of Georgia social workers and nurses urge you to add that important benefit to your coverage. Compared to the cost of general health insurance it is relatively inexpensive and can contribute greatly to your health and quality of life. But for those with bleeding disorders who do not have access to dental insurance -- and can't afford dental care on their own -- HoG has created a dental program that pays for two cleanings a year. Read more.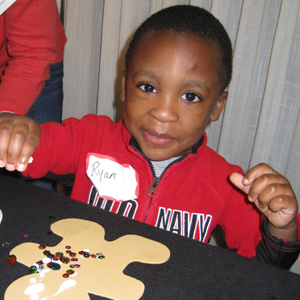 Holiday Happenings at Callaway Gardens
By Kim Wilson, Camp and Activities Coordinator
More than 100 families attended the Holiday Happenings at Callaway Gardens in late November to celebrate the holiday season together. They networked with other families and enjoyed a wonderful day together. Read more.
HoG Pharmacy Customers: New Year, New Insurance Card?
By Michelle Fitzwater, Managed Care Contract Specialist
Many insurance plans have completed their open enrollment in the past months and you may have a new insurance card. Even if you think your plan is the same, please let the HoG pharmacy verify your coverage before you need to order. Read more.

Are You Prepared for Winter Weather?
By Karen Daniel, Marketing and Communications Director
Although our winters in Georgia are usually mild, the occasional ice storm causes a lot of disruption. In January 2011, the metro Atlanta area was mostly shut down for nearly a week because of ice. The Centers for Disease Prevention and Control (CDC) website has many helpful tips for preparing for winter weather emergencies. For people in the bleeding disorder community, it is just as important to make sure you have enough factor in case of a weather emergency. Read more.
Dear HoG: I have two family members whose health is in decline and I am feeling overwhelmed. I need help finding what is available for them. Is there a central place where I can learn more about services for the elderly and disabled in Georgia? Read more.
What do you think of the Hemophilia of Georgia Website?
Please take a very short survey to help us evaluate the HoG website. Thank you!
MASAC Issues Four New Documents
Submitted by the National Hemophilia Foundation
The National Hemophilia Foundation's (NHF) Medical and Scientific Advisory Council (MASAC) issued the following new documents, adopted by NHF's Board of Directors in November 2012. Read more.
Check out The Hemophilia, von Willebrand Disease & Platelet Disorders Handbook. It's a free online resource for everyone affected by bleeding disorders.
View the clinic schedules for the Georgia Hemophilia Treatment Centers.
Have you read HoG's Blog yet?

Find us on Facebook and Twitter.
____________________________________
Hemophilia of Georgia is not engaged in the practice of medicine and does not endorse or support any particular factor concentrate or treatment protocol. HoG recommends that you consult with your physician prior to starting any course of therapy. Occasionally HoG disseminates information on new treatments or therapies. HoG shares this for informational purposes only and makes no claim as to its accuracy or effectiveness.