Horizons in Hemophilia May 2012
Hemophilia of Georgia Announces Major Grants to Fund Clinical Trials
By Jeff Cornett, RN, MSN, Director of Training, Research, & Advocacy
On April 19, Hemophilia of Georgia announced that it is awarding $6,730,380 to three institutions over the next three years to enable the expansion of clinical trials to cure hemophilia. The three institutions are St. Jude Children's Research Hospital in Memphis, Tennessee ($3,172,401); the University of North Carolina at Chapel Hill Gene Therapy Center ($1,000,000); and the Aflac Cancer and Blood Disorders Center at Emory University, Atlanta ($2,557,979). The Hemophilia of Georgia funding will enable these institutions to enroll more patients and progress more quickly with their clinical trials. Read more.
Possible Changes to Georgia Medicaid and their Affect on People who have Bleeding Disorders
By Michelle Putnam, MPH, Associate Director of Research and Advocacy
If I were to ask you, who is the largest payer of health care services in the United States, what would you say? Blue Cross Blue Shield? United? Maybe Cigna? Nope. The answer would be the United States Government. The combined Medicare and Medicaid programs, which pay for health care services for the elderly, disabled, and low income people, cover about 90 million people in the United States. Read more.

Women's Health: New Medication Offers Relief for Heavy Periods
By Penny Kumpf, RN, VWD Community Outreach Nurse
Women who have bleeding disorders may think "I am so tired of dealing with a heavy monthly cycle; if only I could have a lighter period. Or, "What is this Lysteda® that I have heard about? Can it help me? Do I need a prescription?" Do these thoughts cross your mind when you hear or see something advertised that might help your medical situation? Read more.
The Road to Adulthood: More Information for the Journey
By Cathy Hulbert, LCSW, Betsy Koval, RN, BSN, and Chartara Gilchrist, BA
When a child is young and feels vulnerable, it is normal to become attached to your pediatric hematologists, nurses and social workers. Very often, these are the people who helped your family adjust to living with a bleeding disorder. The thought of changing to a new set of faces often makes families nervous! Read more.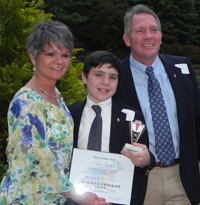 The Mighty Sticker Club Proudly Welcomes A New Member!
By Mary Ann Tyler, RN, Outreach Nurse
John J. is the newest man of steel to reach a milestone. He is a proud new member of the Mighty Sticker Club. To become a member, he mastered the steps for self infusion including mixing factor, selecting a vein, sticking himself, giving his own factor, and completing a treatment calendar. Read more.
HoG Volunteer and Donor Appreciation Reception
By Karen Daniel, Marketing and Communications Director
Hemophilia of Georgia honored volunteers and donors at the annual Volunteer and Donor Appreciation Reception on April 19 at Villa Christina restaurant in Atlanta. More than 125 donors, volunteers, and HoG staff members attended the event. Read more.
Dear HoG:
My 9 year old son is very excited about attending Camp Wannaklot this summer. My family went to the family camp weekend in March and had an awesome time. We really appreciate all that HoG does for my family. We've been so pleased with the nurse who helped our son learn how to self infuse. The HoG social worker also help our family last year with some insurance issues we had a hard time resolving. Your organization is wonderful! How can I give back and support HoG as a way to say thanks for all that you've done to support my family? Read more.
Memorial Day Holiday
The HoG office, pharmacy, and Beacon Pharmacy will close at 12:00 noon on Friday, May 25 and remain closed on Monday, May 28 in honor of Memorial Day. Please make sure you have enough factor on hand for the holiday weekend.