Horizons in Hemophilia September 2011

September 2011
Why Georgia Needs a Health Insurance Exchange
By Jeff Cornett RN MSN, Director of Training, Research, & Advocacy
The Patient Protection and Affordable Care Act (the new health care law) calls for the creation of a competitive health insurance marketplace called an "exchange" in every state by 2014. Consumers, especially those with bleeding disorders, will greatly benefit once a Georgia exchange is in place. Read more.
Dental Care for Older Adults
By Cathy Hulbert, LCSW, Social Worker
Because the mouth is a gateway to the rest of the body, its health can impact our quality of life in late adulthood and how long we live. The good news is that people are keeping some or all of their teeth longer, but with that good news comes an increased responsibility to take care of our teeth. The health of your teeth and gums can affect your heart, joints, lungs, and intestinal tract. Read more.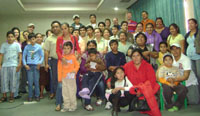 Twinning: HoG Is Working to Improve Hemophilia Care in Bolivia
By Deniece Chevannes, Health Educator
This past August two representatives from HoG traveled to South America to meet with families and members of the Federación Boliviana de Hemofilia to explore the possibility of implementing a project to improve the lives of people and families in Bolivia who are impacted by bleeding disorders. Read more.
2011 Hit 'Em for Hemophilia Golf Tournament
By Vic McCarty, Director of Development
Hemophilia of Georgia's 29th annual Hit 'Em for Hemophilia Golf Tournament will take place on Tuesday, November 1, 2011 at Chateau Élan Winery and Resort in Braselton. More than 250 business leaders and executives are expected to participate in the tournament, along with current and former Atlanta Braves players and coaches. HoG hopes to raise over $200,000 for bleeding disorders research. Read more.
Amicar® for Home and School
By Leigh Carpenter, RPh, Director of Pharmacy
Many doctors recommend that people who have bleeding disorders keep Amicar® on hand for unexpected mouth bleeds. Now that children are back in school, some parents are thinking about keeping Amicar® at home and at their child's school or daycare. Some insurance companies will not pay for "double orders" but there is an easy way to get two bottles when you have your prescription filled. Read more.
HoG Congratulates Scholarship Recipients
By Karen Daniel, Marketing and Communications Director
Seventeen students received John Youtsey Memorial Scholarships from Hemophilia of Georgia for the 2011-2012 academic year.
Through this program, HoG provides financial assistance to clients who are motivated and talented but lack the resources to achieve their educational goals. Awards are granted based on scholastic achievement, financial need, and personal goals. This year's scholarship recipients include the following dedicated students. Read more.
Five Wishes® Is Now On-Line
By Cathy Hulbert, LCSW, Social Worker
In the Spring 2009 issue of Horizons in Hemophilia, we talked about an important document called Five Wishes®. It is a legally binding advanced directive form that adults age 18 and older can fill out if they want to have more input about treatment during the last days of life. In keeping with the times, this document can now be completed and stored on-line. You can access instructions and the form at https://fivewishesonline.agingwithdignity.org. Read more.
Be Prepared!
By Karen Geney, Compliance Officer
September is National Preparedness Month. While emergency or disaster planning may sound like something only businesses should be worried about, do you know what YOU would do in case of an emergency if you had to leave your home quickly? An emergency can take many different forms so it pays to be prepared. Very simply, there are three steps to being prepared for an emergency: 1. have a kit of emergency supplies, 2. make a plan, 3. be informed. Read more.
HoG Announces 2012 Trot to Clot Walk and Run
By Vic McCarty, Director of Development
Mark your calendar for the third annual Trot to Clot Walk and Run which will be held at Stone Mountain Park on Saturday, May 19, 2012. Last year, HoG clients, family members, and corporate sponsors raised more than $30,000 through the Trot to Clot Walk and Run. Once again, the money contributed through the walk and run will support programs and services for the Georgia bleeding disorder community. Read more.
Clinic Schedules
View the clinic schedules for the Georgia Hemophilia Treatment Centers.
Read HoG's Blog
Have you read HoG's Blog yet?
---
Hemophilia of Georgia is not engaged in the practice of medicine and does not endorse or support any particular factor concentrate or treatment protocol. HoG recommends that you consult with your physician prior to starting any course of therapy. Occasionally HoG disseminates information on new treatments or therapies. HoG shares this for informational purposes only and makes no claim as to its accuracy or effectiveness.