Horizons in Hemophilia September 2012
HoG Scholarship Recipients, 2012-2013
By Karen Daniel, Marketing and Communications Director
Twenty-two students received John Youtsey Memorial Scholarships from Hemophilia of Georgia for the 2012-2013 academic year. Through this program, HoG provides financial assistance to clients who are motivated and talented but lack the resources to achieve their educational goals. Awards are granted based on scholastic achievement, financial need, and personal goals. Read more.
HoG Youth Leadership Summit
By Deniece Chevannes, Health Educator
Hemophilia of Georgia held its first Youth Leadership Summit on Saturday, August 18th. HoG youth along with their parents and siblings from all over the state participated in a day-long summit designed to build leadership skills and empower youth. The summit started off with the HoG Leaders in Training (LIT) class of 2012 presenting the project they worked on this summer. The LITs developed a musical to encourage teens who have bleeding disorders to know their diagnosis, always wear their MedicAlert®, and manage their bleeding disorder. Read more and view the LITs' Infusion Musical
Volunteer Spotlight: Deborah Alexander
By Kim Wilson, Camp and Activities Coordinator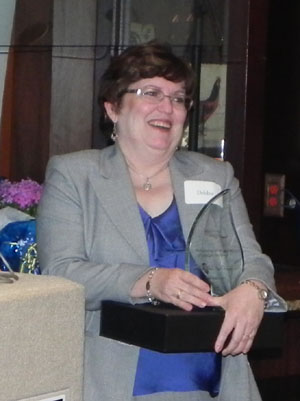 If you've attended Camp Wannaklot, Family Camp, the Trot to Clot Walk & Run or the Hit 'Em for Hemophilia Golf Tournament, chances are you've met Deborah Alexander. If you haven't met her yet, or if you haven't had the chance to get to know her, please allow me to tell you about this amazing lady. Deb is a kaleidoscope of influences and life experiences. Born and raised in Missouri, Deb has lived in the Atlanta area for 13 years. Her greatest influence, and her hero, is her mother. Deb was raised with the philosophy that if you give of yourself (your time or a homemade gift), it means more. She believes everyone can contribute something to the world; the challenge is to discover what that "something" is. Read more.
Open Enrollment for Medical Insurance
By Michelle Fitzwater, Managed Care Contract Specialist
Open enrollment is the time period when you may enroll in or transfer insurance plans offered by your employer. It happens once a year, typically in the fall, and is the best time to review your health care needs. This is a really important decision and you may have to put in a lot of work to get a good result. After all, once you choose a plan it will be your insurance for the next year. Read more.
30th Annual Hit 'Em for Hemophilia Golf Tournament
By Vic McCarty, Director of Development
On October 30, 2012 Hemophilia of Georgia will host the 30th annual Hit 'Em for Hemophilia Golf Tournament at The Manor Golf Course and Echelon in Alpharetta, Georgia. We are very excited to announce that more than 150 golfers are already registered to participate in the tournament which raises money for research for a cure for bleeding disorders. Read more.
Dear HoG: Will a skilled nursing facility (SNF) try to avoid admitting my father because he has hemophilia? I have heard rumors about this being a problem for the bleeding disorder community and I don't know what to think.
-Concerned Daughter
Dear Concerned Daughter: This is a great question that is becoming more common now that people with hemophilia are living normal life-spans. There is truth to the rumor that admissions can be extremely complicated and sometimes nearly impossible for people with hemophilia. Read more.
Dear HoG: What is the difference between SSI and SSDI? They sound very similar!
--Confused
Dear Confused: It can be confusing trying to navigate the alphabet soup that makes up most government programs. Although Social Security Disability Income (SSDI) and Supplemental Security Income (SSI) have very similar acronyms, they are different programs designed to help different types of people. Read more.
View the clinic schedules for the Georgia Hemophilia Treatment Centers.
Have you read HoG's Blog yet?
Find us on Facebook and Twitter.
____________________________________
Hemophilia of Georgia is not engaged in the practice of medicine and does not endorse or support any particular factor concentrate or treatment protocol. HoG recommends that you consult with your physician prior to starting any course of therapy. Occasionally HoG disseminates information on new treatments or therapies. HoG shares this for informational purposes only and makes no claim as to its accuracy or effectiveness.