Meet CEO Maria Manahan
By Amy Bretherton, Director of Marketing & Communications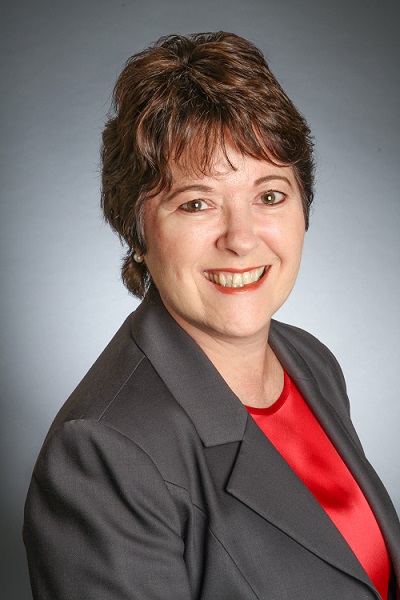 On April 1, 2015, Maria Manahan assumed leadership of Hemophilia of Georgia following the retirement of long-time CEO, Trish Dominic. So who is Maria Manahan and how did she rise to the top position at HoG? Hers is an interesting success story based on hard work, family, faith and the American dream.
Maria, the oldest of four daughters, arrived in the United States from Cuba in 1970 with her family when she was nine years old. They were one of the last families allowed to legally leave the country as a family unit. After arriving in Miami, they traveled to New York City, speaking only Spanish, where they lived in a tenement for six months. Maria's father decided it was not a good place to raise a family, so they boarded a train to Atlanta. They lived in the Little Five Points neighborhood and were one of a small community of Cuban families to settle there. Another child was born, a son, making seven members of the household. To this day, all six households live within five miles of one another. Maria hopes to return to Cuba for the first time with her siblings as soon as their schedules permit.
In the 1970s, Little Five Points was very different than it is today. It was a rough neighborhood but Maria did well in school, with math and English among her favorite subjects. Her favorite activity by far was ROTC. She was a member of one of the first female ROTC groups at Bass High School. Maria learned leadership and loved the military environment. She was even approached about applying to West Point, but she wasn't a U.S. citizen at the time, and her close-knit family would not have approved of her leaving Atlanta.
Maria didn't attend college following high school graduation. Instead, she went to work, became a U.S. citizen, married Russell Manahan and started a family. It wasn't until after her daughter and son were born that Maria went to college; first DeKalb Community College and later Georgia State University. She attended classes in the evenings and weekends while working full-time during the day and raising her young family. Maria earned her Bachelor of Science degree in Urban Studies along with a Gerontology Certificate and soon afterwards was back at Georgia State working to earn her Master of Science degree in Policy Studies, Nonprofit Management. She still enjoys learning and is an avid reader.
Prior to joining Hemophilia of Georgia as Business Manager, and later being named Vice President of Finance & Operations, Maria was a key staff member at Campbell-Stone Apartments and served as Director of Assisted Living and Alzheimer's Programs. She enjoyed building the Alzheimer's program literally from the ground up. Her responsibilities included participating in the design and construction planning for the facility. During her six and one-half years tenure, she was responsible for several areas, including social services, human resources, personal care licensure and finances. Accepting a job opportunity at HoG in 2000 was a difficult decision for Maria to make because she enjoyed working with older adults, their families and loved the Campbell-Stone mission. However, ultimately it is a decision she is glad she made. Maria serves on the Board of Directors of Campbell-Stone Apartments and continues to contribute to the nonprofit agency's success.
Many aspects of Maria's experience at Campbell-Stone Apartments matched up well with her duties at Hemophilia of Georgia. Among them were nonprofit management, budgeting and social services, as well as grants and the regulatory and licensing components of her job. More importantly, the core values: strategic, purposeful, integrity, nimbleness and excellence were aligned. These values also corresponded with Maria's personal values. Maria is very active in her church, teaches an adult Sunday school class and leads a service organization. She uses some of her vacation time to travel to other countries on two-week mission trips where she is part of a team that works on service projects. Maria has been on mission trips to Cape Town, South Africa, Monterrey, Mexico and most recently, in January 2015, to Hyderabad, India. She enjoys being able to serve and to travel to other countries and learn about other cultures.
After an extensive nationwide search conducted by the Washington, DC based executive search firm Vetted Solutions, the decision of the Hemophilia Board of Directors to appoint Maria as Chief Executive Officer was unanimous. Maria managed pharmacy operations, the business department and the agency's finances while contributing as a member of the senior management team for the past 15 years. She serves as a Board Member of the Hemophilia Alliance, as well as an officer, and is a member of the 340B Advisory Board of the Hemophilia Treatment Center at the University of North Carolina, Chapel Hill.
According to Maria, her new role as CEO provides her the opportunity to continue HoG's mission and the legacy that Trish built. She is honored to be directly responsible for shaping the future of the agency alongside the board, staff, clients and volunteers, and she looks forward to working closely with the bleeding disorder community. Maria's entire life has been dedicated to hard work, family and service. As many of you meet her for the first time, you will be struck by her humility, her natural leadership ability and her genuine interest in helping other people. Let's congratulate the Board of Directors for making such a wise choice and selecting the perfect person to lead the agency into the future.