Nurses Week Spotlight: Olivia Kemp
We continue our Nurses' Week spotlights with Olivia Kemp. Olivia is the newest memeber of our nursing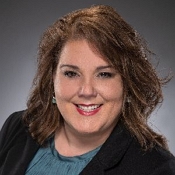 team - she celebrated her one year anniversary in April. She knew she wanted to be a nurse at a very young age and has not veered from that course since. We're so happy that she joined HoG and the inherited bleeding disorder community. Here is her story.
Q: What territory do you serve?
A: Fulton, Paulding, Coweta, Carroll, and Heard
Q: Why or how did you get into nursing?
A: My mom said she knew I would be a nurse from the time I was 2 years old. It seemed I have always had a servant's heart.
Q: How long have you been a nurse? Did you work somewhere as a nurse before joining HoG?
A: I have been a nurse for almost 13 years. The majority of my career has been as a pediatric nurse. My professional roles have included floor nursing, pediatric renal transplant coordinator, Emergency Room nurse, and Clinical Operations Specialist.
Q: What do you enjoy most and/or what are you most proud of in your role at HoG?
A: I love the various opportunities to meet with my clients outside of the clinical setting. Doing training and providing education in the home, client dinners, family retreats, and summer camp are just some of the ways we connect.
Q: What do you think is the most important contribution of nurses to the inherited bleeding disorders community or as a whole (beyond the inherited bleeding disorders community)?
A: I feel above all else a nurse must be caring. Some of the ways a nurse cares for a patient or client is by listening, encouraging, educating, and supporting.