28th Annual Hit 'Em for Hemophilia Golf Tournament
Horizons in Hemophilia, August 2010
By Vic McCarty, Director of Development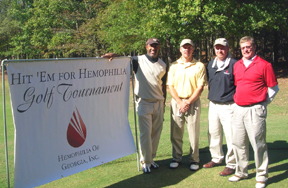 On November 1, Hemophilia of Georgia will host the 28th annual Hit 'Em for Hemophilia Golf Tournament on all three courses at the beautiful Château Élan Winery & Resort in Braselton, Georgia. About 250 golfers are expected to participate in the tournament which raises money for research for a cure for bleeding disorders. Steve Sitton from AT&T is the honorary chairman of the 2010 tournament.

The tournament will begin with a shotgun start at 10:30 a.m. Immediately following the tournament, golfers and guests will attend a reception featuring awards for 1st and 2nd place teams and contest hole winners from each course, special sponsor recognition, as well as a raffle and live and silent auctions.

Corporations of all sizes are invited to participate in the golf tournament and help raise much-needed funds for research. Sponsorship packages can be tailored to meet the needs of any organization. The level of sponsorship chosen by a company will determine the number of golfer slots, course assignments, amount of media coverage, company signage, and community marketing exposure for that company.

Individuals and foursomes are also encouraged to participate in the tournament. Women who don't play golf are invited to attend the Golf 101 for Women Seminar during the tournament.

Another option for supporting the tournament is the donation of items for the raffle and live and silent auctions. Companies and organizations that would like to learn more about donating something to be raffled or auctioned are asked to contact Vic McCarty at Hemophilia of Georgia.

For more information about the Hit 'Em for Hemophilia Golf Tournament, please contact Vic McCarty at 770-518-8272 ext. 213 or vamccarty@hog.org.