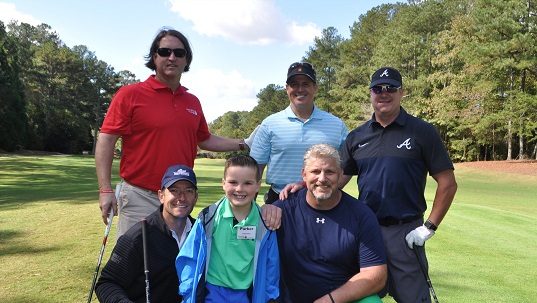 Celebramos el 36.° Torneo de Golf Benéfico Anual "Hit 'Em for Hemophilia" en Asociación con los Bravos de Atlanta
Es hora de dominar su swing y pulir su putt. El Torneo de Golf Benéfico Hit'Em for Hemophilia, organizado por Hemophilia of Georgia (HoG) y en asociación con los Bravos de Atlanta, se celebrará el martes, 23 de octubre de 2018 en el Golf Club of Georgia, en Alpharetta.
Entre los torneos de golf benéficos de primer nivel en todo el país, el Torneo Hit'Em for Hemophilia atrae a más de 200 participantes anualmente, que incluyen celebridades, patrocinadores y altos ejecutivos de negocios para jugar 18 hoyos en dos impresionantes cursos, beneficiando la investigación para encontrar una cura para la hemofilia. Desde 1982, el torneo ha recaudado más de $12 millones para la investigación gracias a las generosas contribuciones de los participantes y patrocinadores.
En la cena informal y la recepción de premios inmediatamente después del juego, los participantes del torneo y los invitados tienen oportunidades adicionales para llevar a casa grandes regalos y premios, que incluyen objetos de valor de los Bravos, y de participar en los sorteos y subastas silenciosas y vivas.
Los participantes y patrocinadores interesados pueden asegurar su tiempo de juego y unirse a los Bravos de Atlanta en apoyo a la investigación visitando www.hog.org/golf o comunicándose con Sarah Weikert, directora de desarrollo de HoG, al (770) 518-8272 o srweikert@hog.org.